Adjustable Upright Bass Bridges
SKU:

UPC:

FREE SHIPPING:

To all 50 US States
Frequently bought together:
Description
An adjustable bridge can be a godsend for your Upright Bass. It gives you the ability to vary the action for different styles, lower for jazz styles, where fingerboard buzz is a welcome seasoning, in the middle for general play where you want more note bloom or boom, and higher for bluegrass or rockabilly slap. Of course, adjustable height bridges are also often a necessity to compensate for seasonal changes on some carved instruments.

I have adjustable bridges on both my basses-- I like the ability to fine tune action, as well as raise it for an acoustic bluegrass jam so I can get maximum volume from string bloom room, or lower it for more fingerboard interaction when playing an amplified jazz gig.
Bridge Measurements (approx.)
Size:
Bridge feet
center to center
Bridge Height
(uncut)
Arch width
(measured in arc)
3/4 size:
4 inches
7 3/8 inches
5 1/4 inches
1/4 size:
3 3/4 inches
6 1/2 inches
4 1/2 inches
1/2 size:
3 7/8 inches
7 inches
5 inches
7/8-4/4 size:
4 3/4 inches
7 7/8 inches
5 1/2 inches


These brand new high quality maple bridges have excellent quality, lightweight aluminum adjusters that were precision installed at the bridge maker's shop. All of our bridges are currently tapped to be used "threads up," meaning that the bridge body is where the threads are (the solid posts go into the feet.) They have finger-sized indents that makes their use easier and more comfortable, and these adjusters are available separately, below, if you want to upgrade a set or install them in an existing bridge yourself. I've posted a large, high resolution photo so you can see the detail of the high grade of maple used.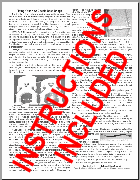 Instructions are included:
I will be glad to include my personal notes with tips on installing a double bass bridge! I am also glad to chat with you via email or on the phone if you have any questions. Installing a bridge isn't brain surgery, but does require careful planning and execution. Do you already have an adjustable or regular bridge that needs to be installed, or do you want to get an idea of the process?? Let me know and I'll send you the instructions via email, no obligation.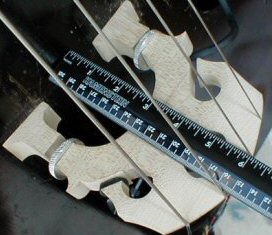 This Bridge is TOO BIG???
That's to be expected! Double basses have different neck angles, which results in the need for different sized bridges -- you can't buy a bridge "off the shelf" to immediately fit your bass. All bridges require fitting. I include instructions to advise you how to trim the top and feet of the bridge to fit your instrument.

The photo shows a similiarly sized bridge cut a bridge down to just 6" tall to fit a 3/4 size Kay; this specific photo is of the adjustable bridge I formerly sold. All 3/4 size bridges come with black adjusters as shown in the photo above.

How can I be sure I have the right size bridge?
If you look or feel inside through the E string f-hole, you will find the Bass Bar; it runs parallel to and below the E string. If you measure from the middle of the bar to the mid-point of the bass and double the measurement, you now know the proper measurement of the bridge's feet when measured from center to center. Choose a replacement bridge in that range (most basses are 3/4 size, approximately four inches from the center point of each foot ) with a height larger than your current bridge.
View All
Close
5 Reviews
I believe I've purchased about 3 of these from Gollihur in the past. All great consistent quality with very durable adjusters.

I bought one of these to replace the old warped bridge on my 1986 Engelhardt EM-1 and I am very pleased with the outcome. The bridge is excellent quality. My bass sounds great. I would recommend that you have a scrolling saw and a belt sander to make the installation much easier. I had both and it went smoothly. Now all I need is talent.

I got the new bridge cut down and set up. Really pleased with the sound of my bass and excited to be playing it. The instructions you provided were a great help and saved me a lot of time and headache.

Hey Bob, Mark and Chris, Just wanted to SHOUT at ya and tell you how satisfied I am with the ADJUSTABLE BRIDGE I ordered from you. I followed your simple instructions and with the help of my wife this bass has NEVER SOUNDED BETTER. I attached an entire sheet of sandpaper to the area and with minimum sanding PRESTO - a great sounding 3/4 Bass. Thanks for a wonderful product and I recommend your products to any person that is sincere about their instruments and the quality of sound.

Great bridge, great help!

Thank you. I am a ham and egg bass player who loves it. Thank you for your help. I purchased an adjustable bridge for my upright. The instructions and advice you offered were invaluable. most places i talked to acted as if "you don't know what you need? Sorry, can't help you." I will shop y'all from now on... Thank you, nice!
View All
Close