DoubleShot Speaker Cabinet (and combos)
SKU:

UPC:

MPN:

FREE SHIPPING:

To Continental US (Lower 48)
Description
It's the DoubleShot cabinet from Acoustic Image!

The DoubleShot is available as an extension speaker to use with an amp you already have, as well as a full "combo" setup, coupled with one of the three different Acoustic Image Clarus SL head options. We'll describe the speaker first, but if you want to know more about the combo options, you can scroll down below for more info on those!

I'm kind of running out of superlatives for the new, innovative stuff that Acoustic Image keeps coming out with. I thought that the UpShot was an incredible speaker when they dropped that - and it was, and still is - but now they've built even further upon that winning formula with the new DoubleShot.

The DoubleShot is one of those things that you just look at... and shake your head, with a snicker. There's NO WAY that thing can put out enough sound to fill a small area, much less a stage or venue. It's about the size of a small mounted tom drum.

But yet - the sound coming from this diminutive cabinet is, to be totally forthright, ridiculous. Upright bass, and even electric bass guitar, comes through with clarity, deep bass, and a volume that is not only unexpected, it's kind of hard to believe. More black magic and sorcery from the engineers at Acoustic Image, I suppose. Just don't speak any Latin in the immediate vicinity of this thing, you might accidentally unleash a demon.

We've been partners with Acoustic Image since the beginning; we've been carrying their groundbreaking, well-engineered, and giggable products since the first generation of the Contra amp almost 2 decades ago. Their unique cylindrical cabinets, downfiring woofers, and transparent amp designs have become a gold standard for acoustic amplification (and remained as one for quite some time), and we're proud to be associated with such a boutique-level product line. We've even helped with product development ideas and testing of prototypes over the years.

This new speaker from Acoustic Image is the smallest 2x10" cabinet in the world, as far as I know. Outstanding for onstage monitoring for you and your band, it's also great for small to mid-size venue gigs. Yes, it'll carry a room. At 12" in diameter (it's a cylinder that sits on its side) and only 11" wide, it virtually disappears on stage. And it's a high-wattage, full-sized speaker array in there. And yet, it's only 15 lbs! It's a "real" speaker cabinet you can legitimately carry in one small bag with one hand.

It's based upon the successful UpShot, but provides much more sound and volume with its second bass driver PLUS the mid-high driver that's mounted on the front.


Early on, we put the prototype through its paces here at the shop, and it was crazy impressive. The DoubleShot works great with an equally tiny Clarus SL or Clarus model, and as a 4ohm cabinet, could also be used together with an AI combo or a head + Upshot rig; put the DoubleShot out front for the audience, and have an upshot or your combo right in front of you as a stage monitor! The omnidirectional nature of the sound resulting from the driver being close to the floor, allows the instrument to be clearly heard on the bandstand and throughout the club. But people have also experimented with putting the Doubleshot onto a stand, raising it higher into the air for better projection. There are lots of options with such a tiny cab.
Designed for acoustic and electric instruments including bass, guitar and keyboards
Compact, highly portable, cylindrical shape fits in a backpack for transport
12 inches diameter, 11 inches wide, 15 pounds, small enough to fit in airline overhead storage bin or under seat
Two 10-inch broad frequency range custom side-firing drivers
One 5-inch forward firing midrange driver with level switch
Two-way asymmetric crossover
Omnidirectional sound fills the bandstand and venue
Bumpers allow compact amp head to mount on cabinet
Rated at 4 ohms, 600W
Technical Specs
Frequency Response - 40 Hz - 16 kHz
Impedance - 4 ohms
Max Continuous Power - 600W
Max SPL >118 dB at 1 m
Drivers
2x10 inch side-firing custom
1x5 inch forward-firing custom w/ level switch
Crossover - Two-way second order asymmetric
Enclosure - 12 inches diameter, 11 inches wide
Weight -15 pounds
Input - Neutrik Speakon wired to pole 1
---
Combo Options
Add a Clarus SL series head to the DoubleShot to create a combo!
Note that combos no longer include a backpack; that was a limited-time special offer, and the backpack is not available for purchase any more. We will have an alternative available as an add-on product very soon!
---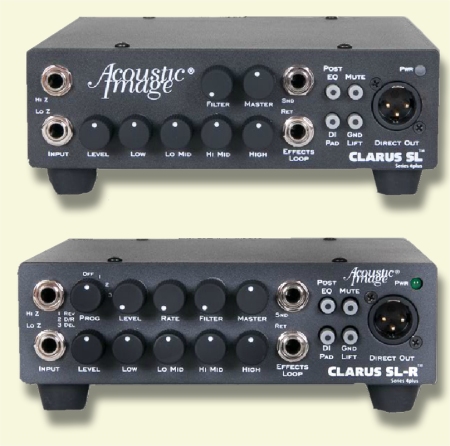 "Combos" are created by placing any of the Acoustic Image Clarus SL series heads atop the speaker, where it sits comfortably and securely - and a Speakon speaker cable is included for connection.

The SL version heads (also available separately) are a smaller and lighter version of the classic Clarus amplifier. All three provide the same 650w power amp that is found in the larger Clarus head, and they are all capable of handling a 2ohm minimum speaker impedance. They are offered in three versions:
Clarus SL: 1 channel head with dual inputs (Hi/Lo Z), 4-band EQ, Hi-Pass Filter, Effects Loop, Studio-grade DI with ground lift, pre-post switch and pad, Mute Switch.
Clarus SL-R: Includes everything above, and adds built-in digital effects (reverb and delay, with adjustable rate control). Most commonly requested by folks who use the amp with higher-pitched instruments like guitar/mando/violin/etc. - most bassists don't use these sort of effects (though some do).
Clarus SL-2: The TWO-CHANNEL model, with dual inputs, dual EQ sections, dual hi-pass filters, and a pair of auto-switching instrument/mic inputs that accommodate mic-level impedance AND built-in 48v phantom power; great for blending a pickup and a mic, two pickups, or switching between two different instruments.
Clarus S4+: This is the full size, original Clarus head (the SL series amps are more compact) so the amp has more output and input options (including separate channel outputs, dedicated 1/4" AND XLR mic inputs on both channels), built-in effects, and a larger, more easily manipulated control panel. Still the same powerful amplifier, and great, transparent sound.
A perfect match of tone and amplifier power, Acoustic Image combo rigs are formidible, eminently portable, and respected worldwide for their transparency and tone. And this one is the new culmination of all of their development and experience over the last two decades.
14 Day Trial Period on Series 4 Acoustic Image amps and speaker cabinets

New owners have a fourteen day trial period to ensure 100% satisfaction that the amp will meet (or exceed) their needs. Please see the "14 Day Trial Period" tab, above, for specifics.
14-Day Trial Period
Your purchase of this Acoustic Image Amplification Equipment is covered by the exclusive Gollihur Music 14-day Trial Period, under the following terms:
You may contact us to return this item, for any reason (or no reason), within the first fourteen days of ownership. The timer starts on the day that you receive the item, not the order date.
Returns are subject to deductions as follows:
Any shipping costs you paid are not refunded, and if the item shipped free, the costs we incurred to ship the item to you will be deducted from your refund or credit.
All shipping costs you incur to return the item are your responsibility.
A small fee is deducted from your refund to cover credit card/PayPal fees which are not refunded to us even if we refund your charge. Note that if you choose to accept a store credit instead of a refund, this deduction does not apply.
Items must be returned in 100% "as new" condition, with all original packaging, shipping materials, and accessories/manuals/bonus items. Deductions are assessed for missing or damaged items.
IMPORTANT: You must contact us for authorization BEFORE shipping the item back.
Product Manual
Need to figure out some of the more in-depth features of this product? Here's a copy of the manual, in PDF format, here.
You may wish to visit the manufacturer's website to see if a more recent version is available.
Carry Bag Options
When this product was released, there was a backpack available for it. Unfortunately, it is no longer made, due to the retirement of the owner of the case-making business. Here is a sheet detailing some carry case options that they've vetted for use with their speaker cabinets and combos.
View All
Close
Warranty Information
Acoustic Image's Manufacturer Warranty, Simply Stated:
We stand behind our products with a full warranty of five years from the date of purchase. Speaker components are warranted for 180 days. Should a problem arise, please call us before returning your amplifier or enclosure. Naturally, our warranty does not cover products that have been damaged through misuse. Bottom line, we don't say that ours is a "lifetime warranty" or even a "limited lifetime warranty". We do, however, commit to treat you the way we would like to be treated. For good.
View All
Close
6 Reviews
AI Doubleshot / Clarus 2 Combo

I own both the Doubleshot cabinet and the Clarus 2 head, and I am very happy with them. They are well-designed, built solidly, and work superbly. The cabinet is small and weighs only 15 lb but puts out excellent full-bodied and detailed sound. The Clarus head weighs 3 lb and puts out 600 watts of very clear and natural signal. The combo sounds great with my string bass + Planet wing pickup, and also does a very credible job with my 6-string electric basses. The flat sound is very good, and the EQ is simple and effective. Very highly recommended

I love the idea, the design, the quality, the weight, and the support from AI. I've seen other reviews mention the low end, but I've got to say, I don't hear it. A GK MBS for example has a MUCH deeper low end to me. However, I want to express this very well may be the Aguilar head I'm using. I've yet to experiment with a different head.

Love this cabinet! For smaller gigs it's all I need. Warm rich sound and full. For larger gigs I use it as a second cabinet and it really rounds out the sound and fullness. Love this cabinet.

It's rare that a piece of gear turns out to be everything you hoped it would be. This one exceeded my hopes. First time out was a full big band gig, outdoors in front of 200-300 people seated 30 feet back from stage. Saxes were mic'd, drummer was a beast from the local Air Force band.I was stuffed behind drummer's hi-hat and music stand partially straddling the little cab with my Clarus amp on top. Not in PA. Was amazed I could hear myself comfortably and, more importantly, folks way out in the audience told me later the bass sound was clear amid the saxes, trumpets, bones, piano and guitar. Couldn't ask for more.

Acoustic Image DOUBLESHOT SPEAKER CABINET

Using with my Palatino VE 500 Electric Upright Bass and it sounds great. The sound projects well at any venue. I have a TC BH500 Watt amp 4 ohms it handles the 500 watts without any speaker noise.
View All
Close