Description
We've been getting these genuine Pernambuco bows from the same manufacturer for over a decade now; they are crafted in the same shop as my Brazilwood bows, and have octagonal Pernambuco sticks with a fully lined* (French) and half-lined* (German) ebony frog, which at this price point is a great value. These bows are very commonly used by advanced students -- several of the bass majors in our local college's music program are using them -- and they're enthusiastically reviewed all over the internet.
Weight can vary a small bit from bow to bow, but they're actually quite consistent in my experience with these bows over the last two decades.
A representative French bow weighed around 132 grams, with the German/Butler at about 138 grams. They have a lovely silver wire wrap at the frog end, and a leatherette grip for comfort. The eyes in the bow frog are of white mother-of-pearl (not plastic).


They're similar to our Brazilwood bows in design, but I find that they have a "livelier" tip, which works well for solo work and fancier spiccato techniques -- but it is still a very good, comfortable, all-around bow for most any bassist.

All the Pernambuco bows have dark horsehair; we call it a "Chestnut Blend"; it's more accurately more of a mid to dark blend of black and chestnut, which players have found to be very agreeable. It's a really nice feeling hair, not too coarse but with nice grab. (Note that some of the photos below are older and show some bows with white hair, which is no longer available on this bow).

What the heck is Pernambuco? Pernambuco is a particular tree of the Brazilwood (Leguminosae) family that is traditionally prized for bow making; it's somewhat expensive to obtain, so a true Pernambuco bow is often also more expensive than a "Brazilwood" bow (which can be made of one of several woods that are generically called "Brazilwoods" - see more details in the next paragraph). We do have Brazilwood bows available, from the same maker who crafts these Pernambuco bows -- they're really nice, and are a bit more affordable, if your bass budget is tight. You can find these bows on our site as well.

A little learnin' for ya:
Brazilwood is not actually a specific wood, but a named grouping of closely related woods (several trees of the family Leguminosae, if you want to geek out a bit.) This grouping of woods is wonderful for making bows; they have straight grain, wonderful acoustic properties, and a warm reddish color. Further geeking out: the color is where it gets its name; Portuguese explorers finding the trees on the South American coast found that the wood yielded a valuable red dye, and named the tree pau brasil, meaning, loosely, "red wood." Trivia time: That's where the country of Brazil got its name!

Pernambuco is a particular tree of the Brazilwood family that is traditionally prized for bow making; it's more expensive to obtain, so a true Pernambuco bow is often also more expensive. That said, prices on Pernambuco bows can be all over the place; there are much cheaper ones to be found on auction sites like eBay, and much more expensive (into the several thousands of dollars!) Pernambuco bows are available from other shops. As with most anything, it's not just the base materials, but quality and craftsmanship that matter. Your bow is as much a musical instrument as your bass is.

As you can find by reading the many excellent reviews for these bows over the last several years, I provide a "better" quality bow at a fair and reasonable price. These bows are considered 3/4 size (though be aware that there are no strict rules on sizing). The French bow is 27¼ inches end to end, with about a 21 inch hair length. The German bow is 30 inches end to end, with about a 22 3/8 inch hair length.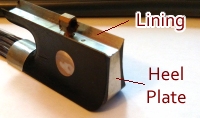 * Fully Lined/Half Lined: Nicer bows have a metal lining, usually of nickel or silver, which is fitted to the top surface of the frog, to allow the frog to glide smoothly along the surface of the stick when tightening and loosening the bow hair. This is called a "half lining," which is featured on all of our Brazilwood and Pernambuco bows. Additionally, our French bows also have a heel plate, which is an matching, inlaid metal piece that rounds the corner on the back of the frog, down around to the pearl slide on the bottom; the addition of this heel plate to a half-lined bow is what makes a bow "fully lined." The heel plate is rarely used on German bows because of the different profile of the back of the frog, so it's not a "downgrade" to not have a heel plate on a German frog; it's actually pretty normal and expected.
Do you do Bow Trials?

Some sellers provide a service where they send you three or four bows to try, and you give them all a go, and send back the ones you don't like as much, keeping the one you do. We don't do that with these bows, and here's why: at this price point, it's simply not worth the cost or the trouble to either of us. Why not? When bows are played and returned, they must be inspected, cleaned, and restocked, and this costs time and money. Shipping bows requires care in packing, and insurance. This also costs time and money. And, to be fair, if you're a student, intermediate player, etc., you very likely won't perceive a meaningful difference between a random handful of these bows; they're very consistent, and -- with all due respect -- if you can, you're probably shopping for bows in a much swankier price range (like $1,500 and up.) So, rather than raising the prices, to subsidize the costs of providing this rather dubious service on bows that cost under $300, we instead provide you with an excellent, consistently-crafted bow at a really affordable price.


AN IMPORTANT NOTE ABOUT BROKEN BOWS: A wooden bow is a fragile musical instrument in and of itself. Especially when under tension, a simple rap against a hard surface (like the post of a music stand) can easily break a bow. Bumping into a bow that is perched on the lip of a music stand is also a common "maker of unhappy bassists" -- the bow hits the floor, and suddenly the stick is in two pieces. I really hate taking those phone calls, because I feel bad - I really do - but it really is exceedingly rare that it's the bow's fault.

Breakage from seemingly innocuous raps against a chair leg is not a sign of a "defective" bow, any more than shattering a glass vase by grazing a marble countertop would be considered the fault of the vase.

We STRONGLY recommend that you (or your children) exercise prudent care with ANY wooden bow, whether bought from us or not.

There are bow "holders" available to help keep them safe; we sell bow quivers (a leather bow "holster" that ties to the tailpiece) as well as inexpensive hooks that clip onto the music stand, providing a safer means for putting the bow down for pizz sections.


View All
Close
11 Reviews
Pernambuco German Bass Bow

I have played exclusively with a french bow. I bought the german bow to determine if it would work better. The bow arrived quickly and well protected. After using it for only a short while, I find myself impressed with the bow and it has become my bow of choice.

I read a lot of these bows in the internet and decided to give it a try. No disappointment here, my bow is very well balanced, it helps you to maintain good fundamentals. the hair is really grippy. Also, beautifully adorned

I initially hesitated to make this purchase. My other (German) bow was considered to be a quality student bow, and I wondered whether a true upgrade would need to cost hundreds more to be worth it. But it's really exceeded my expectations: the increased clarity of tone is substantial, and the reduced playing fatigue is great. The black hair looks cool too. :-)

A great bow for a great price!

I'm a novice bass player and this bow was recommended to me by my instructor. We are both thrilled by the bows construction, sound, and feel. This now is great for other beginners and is a great entry point for the instrument! The price of this bow makes this completely worth while. The delivery was very fast and the packaging even held up in the rain. There's even a care guide inside!

I'm very happy with my purchase, not only for the price point but also the quality and tone of the bow has. I've had it for a few weeks now and have no complaints. The tone is so crisp and it holds rosin really well. High recommend and will be coming back in the future for my bow buying needs.
View All
Close