Product Overview
Mic Stand/Amp Handle Mount
Works well for preamps, small amplifier heads, effects units and more!
(Shown with a classic D-TAR Solstice).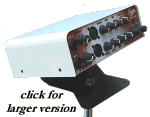 Clever, simple design, formerly made by Raxxess. Using the small threaded ring included on your mic stand, easily and quickly mounts to the top, putting your equipment at a convenient angle for ease of adjustment and viewing. Also slides beneath your amp handle (see photo) for secure use on top of your amp.

You can use Velcro patches to easily (and quickly) fasten your equipment unit to it; there is also a centered mounting hole that you can use to mount equipment to it using a screw and nut (not included).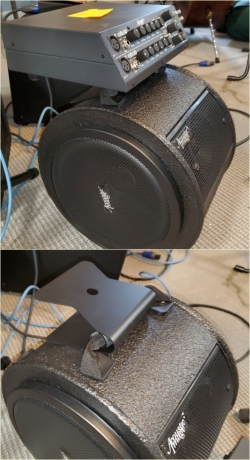 This bracket is a great add-on to the Acoustic Image DoubleShot speaker; it is the perfect angle to mount an amplifier head atop the speaker. It easily slips under the carry handle, creating a secure "platform" to put your amp head on.

You can optionally put a piece of velcro on the surface of the bracket and the bottom of your amp for even more security. It's simple, affordable, and very effective. It can be purchased with the DoubleShot as a "package" to save on shipping costs; see the "Add to Cart" drop down menu on the DoubleShot page. (See "related item" links, below)
Reviews