Product Overview
We've been looking for some time for a rehearsal/performance chair that is adjustable for bassists - but not too heavy, bulky, or complicated. Both Mark and Bob have used this chair on several occasions, and we feel that it offers great value as an ultra-portable seat.

When rehearsals go long and legs get tired (and old - Bob), it's wonderful to have something to enable you to sit while playing.

There are many different seats, and as players ourselves we kinda classify them in two groups. There are those designed for permanent use in a performance or rehearsal space; while comfy, they are too heavy and/or big, since they're not really designed to be "portable." Then come the ones that are more easily transportable. This adjustable chair is deep in the latter group — it's extremely compact and light - yet sturdy enough for most players.

The Facts:
weight is just 10.8 lbs
when folded is only 45 inches high, 14 inches wide, and 4 1/4 inches deep
rated for up to 250 lbs.
seat size 13x10 inches
seat height adjusts from 18 to 32 inches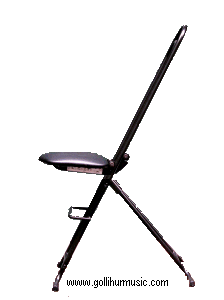 The seat of this folding stool is lightly padded to save weight, and it's infinitely adjustable from approximately 18 to 32 inches for just the right play height for most players. It uses a clever sliding mechanism to lock the seat into your preferred height by using eight strong rubber stoppers that "grip" the tubing in four places. There's also a built-in footrest ten inches above the floor so you can get adopt a comfortable position that works for you.

The chair's low-profile frame is made of powder-coated steel, so it doesn't "stand out" on stage - but has a classy, understated look. It also has a small 13x20 inch footprint - which makes it less likely someone will trip over the legs trying to scuttle by on a crowded stage!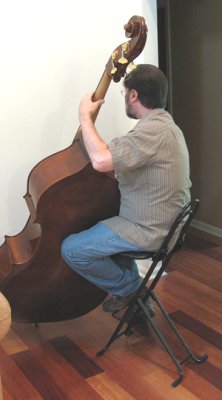 Just a tip: If you've never used a stool or played seated, you may find that you adopt a position with your bass at a lower angle as shown in the photo to the left. Depending on several factors, including the floor, the tip on your endpin, etc., the bass may have a tendency to try to slide away from you. Constantly fighting that slide may cause you to tense up your left hand, particularly - and that's not good!



We mention this just so you are aware of the possibility, and to show you a related product — the Xeros Upright Bass Endpin Anchor. Now you know what it's for! It has a "cup" that holds the endpin in place, and its adjustable strap has a loop which goes around the chair's foot. It holds the bass securely so you can concentrate on playing, rather than foiling a bass escape attempt! Of course, a looped piece of rope or other material can do the same thing, though it's not as elegant. You can even take off your belt if it's an emergency... as long as it doesn't create another one! ;-)
Reviews