Suitcase Compact Combo Amplifier
SKU:

UPC:

MPN:

FREE SHIPPING:

To the Continental USA
Description
We were among the very first dealers to bring Phil Jones amps to the US market, and we've brought them back on board!
The "Suitcase Compact Combo" is a surprisingly potent combo, as it has a very small footprint. I will say, it is a bit "dense" - meaning that it does have a bit of weight, no doubt due to its very sturdy construction and the fact that it contains four powerful small drivers (and their hefty magnets). But it's still quite manageable, and quite easy to carry despite having a bit more mass than you might expect, looking at it.
The tone is massive, especially considering its size. Plenty of heft in the low end if you need it, and the EQs are very usable - just dial in the tone with the easy-to-understand controls and go at it. It puts out plenty of sound and should fill most small to mid-size stages, and features a DI output for sending your signal to the "house" (the main PA board). So it should suit the needs of most players, whether amateur or professional. It also has an external speaker jack for adding a second cabinet, so you can grow as needed, or have a scalable rig for different venues or needs.
Here's the product information as provided by PJB.
Powerful Small Combo
Introducing the Suitcase Compact. This model is based on the superlative and uncompromised performance of the original PJB Suitcase. It is more powerful but physically smaller, in fact the same size as our Compact 4 enclosure. It has an incredible punch sound cutting through air as "a knife through butter" but with a solid and powerful low end response normally associated with a much larger combo.
It features a two-channel pre amp with our unique 3 band EQ. Simple to find "your sound", this EQ sounds has amazing control and transparency that allows you to unmistakably hear the true characters of your own playing and instrument.
In the heart of this amp lies a formidable ultra high-energy power supply. It feeds an efficient class D power amplifier which utilizes almost 95% of this energy to drive the four internal PJB Piranha speakers.
The Suitcase Compact puts out a healthy 300 watts RMS onto its own speakers. Adding a Compact 4 cabinet it becomes 500 watts.
The future of amps is trending to; "smaller and better" but with the Suitcase Compact bass combo, the future is here now!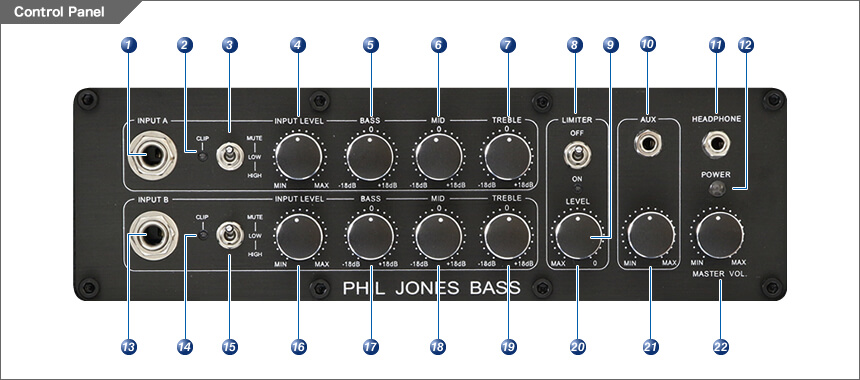 (1) Input Jack (2) Clip Indicator (3) Mute/ Passive/ Active Switch (4) Input Level (5) Bass-EQ (6) Mid-EQ (7) Treble-EQ (8) Master Vol. Control (9) AUX Level Control (10) Input AUX Jack (11) Line-Out Jack (12) Head-Phone Jack  (13) Power On/Off Switch (14) Power LED
Product Manual
Need to figure out some of the more in-depth features of this product? Here's a copy of the manual, in PDF format, here.
You may wish to visit the manufacturer's website to see if a more recent version is available.
View All
Close
Warranty Information
Warranty Information
PJB amplifiers carry a 2 years limited warranty on parts and labor.
Products must be purchased from an authorized PJB dealer.
Buyer must complete and return the enclosed warranty card within 15 days of purchase, or register online.
This warranty covers defect in materials or workmanship that occurs in normal use. Within warranty period PJB or its local distributor will repair or replace the defect unit free of labor and parts charge. It is the buyer's responsibility to use the unit strictly according to instructions written in the owner's manual.
This warranty is not transferable; it is provided to original owner only.
Damage/defects caused by the following conditions are not covered by this warranty:
Improper handling, neglect or failure to operate the unit in compliance with the instructions given in user manual;
Connection or operation in any way that does not comply with the technical or safely regulations applicable in the country where the product is used;
Repairs or modifications by anyone other than authorized PJB service agent;
Speakers are not covered for damages caused by incorrect connection, or when powered beyond the limit described in the user manual.
Manufacturing defects are typically detected during early usage.

IMPORTANT:
In all warranty issues your first line of communication should be to the retailer you purchased from, even if you have purchased product from an online source.

When a local distributor is available, customer who prefers to purchase across country online may be required to pay shipping charges to retailer in order to obtain service.

Warranty term/condition might be different depending on the country you are in. Please contact your local distributor for details.

Further questions, please contact PJB by email info@philjonespuresound.com, or call (855) 227-7510.
View All
Close