Description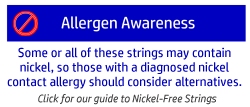 These are the classic student string; a solid core steel string with nickel winding.
This is the string that is commonly recommended by Suzuki Method instructors and music teachers, as it is affordable, durable, and consistent. It is quite often found on school and rental instruments for these reasons.
The tonal quality is middling and inoffensive - and therefore it works well for both pizz and arco without drawing attention to itself, and its dependability is high -- they should last a good long time.
Of course, we include a tip sheet for installing these yourself - it's an easy job that doesn't require any special skills, and we're here for you if you need assistance.
Designed with the student in mind for 3/4 and 1/2 size basses.


Super-Sensitive was acquired in 2021 by D'Addario, who will continue to make the strings the same way as always, in their own New York facility.
View All
Close