Description
These solid, nice quality tuners are the stock machines used for one of the most popular and premier electric upright basses on the market. They could be perfect as an replacement or upgrade to your existing electric upright bass, or you could use them for a custom project. They're attractive and well-made, with a plated chrome finish. Feature a 19:1 ratio and a 9/16 inch post. The plate is approx 1.7 x 1.3 inches at the widest points, and the post extends approx. 1.2 inches from the plate surface.

The set of four (2 left, 2 right) includes matching screws as well as post ferrules that could be used with your project if desired.

Basses that these are known to be a DIRECT FIT onto include:
Eminence Electric Upright Bass (all models)
Azola BugBass (though these are chrome, the originals are often black)
Palatino 550 EUB
A customer who purchased these for a Stagg electric upright reported that "the tuner is pretty much the same -- the top holes line up perfectly. If you don't mind putting new screws holes in the bottom it covers up the existing holes from the old tuners."
(Have you successfully used these on another bass? Please let us know so your experience can help other users.)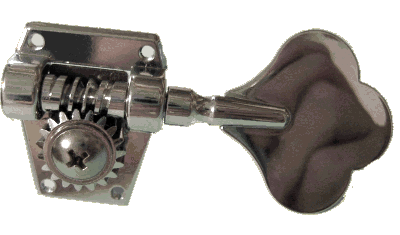 View All
Close