OMNI Bass by NS Design (CR Series) - Compact Electric Upright Bass, 4/5 string
SKU:

UPC:

MPN:

FREE SHIPPING:

To Continental US (Lower 48)
Description
Similar in many regards to the full-sized CR electric upright, the OMNI Bass from NS Designs has a few distinct differences which make it uniquely attractive to certain players - particularly those who play mostly electric bass and want a "crossover" instrument which bridges the gap between electric and upright bass. Based on a 34 inch scale, which is familiar to electric bassists, the instrument features an arched fingerboard for bowing, dot markers on the fingerboard for ease of intonation, and 5 strings for extended range (4 string model also available!)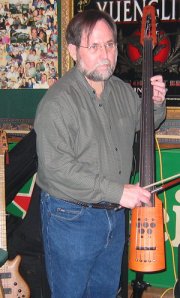 NS Design intends this instrument to appeal to different player objectives. While I typically order them with a low B string, they are also available with a high C string, as well as tuned in fifths in order to be played as a five string cello! While I hold down the low end with my low B model in blues-rock and other settings (March 2006 photo on the right), it could very well serve as a melodic instrument in other types of ensembles. The bass features the same Polar™ Pickup System and EMG Magnetic pickups as the CR series. The onboard preamp includes bass and treble controls for EQ tweaking, as well as a mag/piezo balance control and the unique Polar mode control, which allows you to optimize bowed response, and to control attack and decay characteristics for pizzicato playing.

You can play the NS Design OMNI Bass using the very cool Boomerang™ Strap System to "wear" the instrument just like a regular electric bass. It features two articulated arms and a pivoting hub (kind of looks like a "lazy S"); you simply attach a standard guitar strap to the ends of each arm, adjust the arms, and you can place the instrument in virtually any position in relation to your hands and body. You can even rotate the instrument on its hub into a horizontal playing position for playing it like an electric bass. It's a neat arrangement, you can adjust the pivot's tension so that you can quickly and easily rotate it to a vertical or horizontal position -- or anything in between! I used a tripod stand when I played the Bass Cello at a recent performance as I had to quickly switch between it and electric bass, but have practiced it with the strap. I also bowed it for several tunes and was very happy with the results. The photo below shows Mark using the strap system-- now I know what he's doing out in the warehouse when he says he's working!


I find this instrument to be perfect for a player who primarily plays electric bass but wishes to have a second instrument to capture that "upright vibe" with a modern twist. Obviously, it's a shorter scale instrument with a solid body, so it's not going to fool a purist... but it's a very well-made instrument with lots of tonal flexibility, incredible playability, and distinctive looks. It was especially rewarding to be able to dial in very URB-like sounds as well as a more solid rock flavor.

OMNI BASS SPECIFICATIONS: (four string model specs will be included when they become available)
LENGTH: 44.5 inches
WEIGHT: 7.2 LB
SCALE LENGTH: 34"
STRINGS: 4 (EADG) or 5 (BEADG)


5 string bass can be easily re-strung for E,A,D,G,C by purchasing the full 5-string/high C set; no special adjustments or modifications to the instrument are needed to make that change.

CONSTRUCTION: Solid rock maple neck and body, flame maple face
FINISH: Traditional amber stain with clear semi-gloss polymer coating.
FINGERBOARD: Richlite, 27.5 inches long, radius 2 inches
BRIDGE: Phenolic, overall string spacing: 2 ¾ inches, radius 2.2 inches
NUT: Ebony, overall string spacing: 1 5/16 inch, radius 2 inches
BRIDGE PICKUP: The Polar™ directional piezo pick-up system responds selectively to either vertical vibration (for the sustained plucked sound, like an electric bass guitar), or lateral vibration (for dynamic bowing, and a percussive plucked sound).
MAGNETIC PICKUP: Low impedance EMG™ magnetic pick-up system, with individually adjustable coils, and low-noise, hum-canceling pre-amp.
ELECTRONICS: 18 volt active circuit. Mono output.
TRUSS ROD: Double rod design. Accessible at nut.
TUNING MACHINES: Schaller 20:1 ratio, fully encased worm gear tuners; black finish.
STRINGS: NS Bass Cello strings by D'Addario. The NS Bass Cello also accommodates most long scale bass guitar strings.
GIG BAG: (standard) Padded gig bag with integrated bow pocket, handle and backpack style strap. External pockets for stands and accessories.


NEW! Check out the FRETTED Five String OMNI Bass!

This newer incarnation of the OMNI Bass provides a fretted, yet bowable alternative! With the same standard electric scale as the regular OMNI Bass, it adds carefully designed and installed frets for the bassist who prefers the fretted approach. It still features a fingerboard arch that makes the bass suitable for bowing. Similar to the other models, it comes with the wearable "Boomarang" strap system, and is fully compatible with the other stands and accessories.


I've been a dealer for the Eminence Portable Bass for several years, and happily gig one on a regular basis. While I feel that the Eminence is the closest thing to "the real thing" in a more portable format, I'm quite conscious of the needs for an instrument that can be played at much higher volumes. I've often taken my homebuilt Electric Upright Bass (EUB) to situations where a more electric presence is required, where I need more punch and clarity to get through the mix... where a standard upright bass or the Eminence won't do.

When I built my own EUB several years ago, I borrowed its look from the very attractive instruments from Ned Steinberger, and after reacquainting myself with their line (especially the OMNI Bass!) I decided to make them part of the Gollihur Music family. I now carry the CR series basses and bass cellos, the models that feature both magnetic and piezo pickup elements, active preamps, and a host of truly gig-worthy features. The CR4M and CR5M are full-scale electric upright basses; the "OMNI Bass" is a short (34" - like electric bass) scale, very versatile five string instrument that has many of the same features in a more compact design.
Product Manual
Need to figure out some of the more in-depth features of this product? Here's a copy of the manual, in PDF format, here.
You may wish to visit the manufacturer's website to see if a more recent version is available.
View All
Close
Warranty Information
NS Design will cover all defects in material and workmanship for five years for the CR Series, three years for the NXT Series, and two years for the WAV series from the date of purchase. We will repair or replace, at our option, any instrument or part thereof which is found by us to be defective. This warranty includes the tuning hardware, electronics, pick-up systems, truss rod, bridge, fingerboard, neck and stand. This warranty does not include replacement of strings or batteries, or wear to potentiometers, the fingerboard, or surface finish. Problems resulting from disassembly, modification, customization, or repair by anyone without prior authorization from NS Design are not covered by this warranty. We assume no liability other than for the actual repair of the instrument to playable condition within our specifications. This is our sole warranty, and it includes all warranties, whether expressed or implied. You may have specific warranty legal rights which vary from state to state.
View All
Close
1 Review
I have been a fan of EUBs for a while and have been playing a Zeta Crossover bass for many years, struggling to learn arco (bowing). My wife surprised me with this wonderful instrument, and wow, it truly is worth the price, though there are many priced this high that I do not believe are. I mainly play a fretless Godin, which is a wonderful bass, but this is another level. Yes, it is comparing a Corvette to a Civic, price wise, but the tonal flexibility, the ease in which it bows, and the warmth of the tone is amazing. The boomerang strap system is really fantastic. I am a very short, fat guy, so I was concerned that it wouldn't work. It allows so much flexibility in how you hold it, and I quickly found a sweet spot where I locked the arms, and then kept the center bolt loose enough that I can shift from upright to horizontal positioning with ease, and completely sold once there. It is wonderfully odd to have a bass strapped on that I can remove my hands from it and move around with it not shifting or tilting in anyway! I am sure the other Omni's are just as amazing. The one warning is that this is an 18 volt bass, that is right, two 9v batteries. Additionally I have the single pin stand and the wooden brace.
View All
Close