Deluxe Ebony Hat Peg Upright Bass Tuning Machines (Tuners)
SKU:

UPC:

MPN:

FREE SHIPPING:

To all 50 US States
Description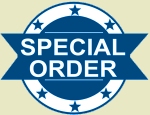 IMPORTANT NOTE
This tuner set is a "special order item," which means that it is not always in stock. This means that, if you purchase this item, we may need to acquire them from the manufacturer or a distributor, which may take anywhere from a couple days (normally) to a couple of weeks (rare, but we'll let you know). It also means that we are usually unable to provide overnight or two-day options for these tuners (but you can ask, if you want to).
We offer this set as a non-stock item because customers have asked for them, and they're not always easy to find at retailers. Also be aware that as a special-order item, the tuners are not returnable.
These high-end tuners are constructed with brass plates and gears with an ebony knob with pearl dot. They are an excellent upgrade to your instrument, very fancy and well-made by Rubner in Germany.
Feature a 22:1 ratio and a ¾ inch post which tapers slightly at the end. The shafts and posts of these tuners are designed to accommodate the upper and lower positions, and have appropriately shorter pegs and posts for the upper position in the pegbox, which is (usually) smaller than the lower position. The tuning key shafts measure approximately 14mm (short) and 24mm (long) from the edge of the plate to the start of the key turner. The ebony shafts are all the same, approximately 74mm. Each individual machine weighs approximately 6.5 oz. (weighed on our postage scale). The plates measure approximately 2 3/8" by 1 3/4" (sizes approximate; the corners are rounded).
Set of four including matching screws.
View All
Close