Description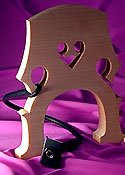 The Bass Max is a compact unit designed to be wedged into the wing in the side of your bridge. K&K advises that they feel that one sandwiched unit is better than a pair, with one in each wing of the bass, to avoid potential out-of-phase problems. It has two piezo elements in this single rubber jacket, sandwiched top and bottom, with material in between, so it senses the activity from both the top and bottom of the bridge.

The Bass Max is my most popular pickup, and rightfully so. It sounds great, with a full range response and is especially good for situations where you'd need to temporarily mount or switch the pickup between basses (a 30 second job). For the many different styles I play, I have come to prefer the Bass Max's versatile character; though the Double Big Twin (also from K&K) is absolutely wonderful for those who specialize in straight-ahead jazz.

Compared to the Double Big Twin, the Bass Max is very clean, with the string sounds not quite as "defined" -- and that's not a bad thing, but a different one -- it is still crystal clear, just not as 'stringy.' This pickup also has the same warmth, and that is generally unusual for piezos. It also has a smoother arco response than the DBT -- more bridge than string sound, since there is more wood between it and where the strings meet the bridge. Electric bassists could draw the comparison of a bridge pickup as opposed one placed at a midpoint (not the neck position). However, unlike some other pickups, it is not muddy or dark, and produces plenty of highs -- you can get some hand, string, and slapping sounds, too, unless you eq them out.


If you lean towards bluegrass or rockabilly, or want a slightly thicker, more mid-rangy sound, I'd go with a Bass Max -- especially if you switch to arco a good deal. The Double Big Twin has a more "scooped", hi-fi style of sound (which I sometimes preferred for jazz on the Juzek), where the Bass Max had more midrange and a little less string.

Will it fit your bridge? Bridges are not uniform, and many require slight alterations to accommodate any pickup. I use a file or piece of sandpaper wrapped around a slim slice of wood to remove just enough wood to make it fit. If the bridge wing is too wide, a small piece of wood can be used as a shim. Instructions are included with the pickups as well as my own tips and hints on installation and use, it's no challenge to fit it.

If you've ever had your hands on Ampeg Baby Bass reissue (and most other Azola made electric upright basses), take note of the Bass Max pickup that is inserted in the side of the bridge -- K&K made it for them.

If your application calls for what this unit has to offer, have more than one bass and don't want to buy a pickup for each one, or you don't want to glue anything to your bridge, I heartily recommend it. Please consider that if your bridge is shorter than the usual style 3/4 size bridge, such as the type that has very long legs and a short top section, the Bass Max may not be the best choice. If there is a very short distance from the top to the bridge wing, there may be insufficient wood for the strings' sound to diffuse, and the sound of the two closest strings may be louder than the other pair.
Do you Want a DOUBLE Bass Max?
You're probably looking at the pickup in the photos above and thinking, "If the pickup is only on one side of the bridge, won't it give me unbalanced sound? Won't the strings on the side where the pickup is installed be louder?"

The good news is, probably not. On most basses, especially if you have a good quality (or better) bridge, the vibrations from all four strings are pretty fairly equal by the time they reach the bridge wing. Very few people complain of unbalanced sound from their strings. So you really probably don't need to spend extra money putting an element in each side of the bridge.

But don't let that stop you if you really want to. After some pickup systems were custom-created from separate components, systems using a pair of Bass Max pickups - with one out of phase from the other - became popular among some users. As a result, occasionally I have special-ordered several "Double Bass Max" systems for users. This system is similar to the Bass Master Pro, but a second out-of-phase Bass Max replaces the Double Big Twin transducer; it is out of phase in order to avoid the phase cancellation that could occur.

The Double Bass Max System includes two specially built Bass Max transducers wired to a stereo endpin jack, a stereo (TRS) cable, and two channel preamplifier with volume, overall gain, tone controls for each channel, and mixed output. The Pickup Only version has the pair of pickups wired to a single TRS jack. I can also have the pickups wired IN phase, or have both pickups wired to a standard mono connection, at your request.
If you'd like to order one of these, we do them as a special-order item only because there are so many variations available, it's too confusing for "add-to-cart" processing - and since it's a special order item, it's not returnable. We want to make sure you get exactly what you thought you were getting, so you can contact us by email or phone to make the arrangements and get current pricing.
Package Available:
Add a Preamp and FREE Mounting Kit!
Our special package includes the Bass Max and adds the Pure Preamp, which is a tiny, battery powered unit that is a perfect match to the K&K Pickups. Impedance buffering helps provide a more tonally balanced sound, and its powerful 3-band EQ has bass (120hz) and treble (8kHz) controls, as well as a 2.5 octave midrange control centered at 2500hz. This very clean circuit has an internal input volume (gain) control for 1x to 10x preamplification, and the main volume control is on a big knob for easy access. Just a tiny bit over 8 ounces with battery.
Our mounting kit includes a quality 12" cable with right angle connectors, a piece of vibration-isolating foam, a hook & loop strap, and illustrated instructions for quickly (and NON-PERMANENTLY) mounting the Preamp to the rear surface of your tailpiece, putting the controls right where you can reach them - and making for a very clean, inconspicuous installation. Hundreds of bassists worldwide use this simple, effective setup.


Double Bass Max pickups are considered Special Order Items. While special orders usually don't take that long, I'll prudently state that you should allow 1-2 weeks for delivery, as they're custom manufactured to order.
Product Manual
Need to figure out some of the more in-depth features of this product? Here's a copy of the manual, in PDF format, here.
You may wish to visit the manufacturer's website to see if a more recent version is available.
View All
Close
Warranty Information
K&K grants all customers a 12-month (1 year) warranty that our products are free from defects in workmanship and materials with normal and proper use. K&K reserves the right to inspect all warranty claims and ensure that the item has not been altered, repaired, subjected to misuse, or damaged by improper installation. These will void the warranty.
For valid warranty claims, K&K will repair the item and ship it back to the customer for free, via the lowest cost shipping method. Initial shipping charges are to be paid by the customer. We normally have a 1-2 business day turnover time for repairs.
Initiating a Warranty Claim
Please test the K&K product thoroughly to ensure that it is the source of the problem (not a cable or other unit used in combination with the item). If the product requires a battery, ensure that the battery is new and fresh.
Call K&K (1-800-867-6863 x107) or e-mail tech support to obtain an RA number. This number is valid for 10 days. Items returned without a valid RA number may not be processed.
Include proof of purchase to show that the item is within the 12-month warranty period. If proof of purchase cannot be obtained, or if the item is outside the warranty period, a repair fee may be charged.
Package the product securely. K&K is not responsible for damage incurred during transit.
Please include the following information with the package:

RA number
Description of the problem
Copy of invoice, sales receipt, or similar proof of purchase
Complete contact information with phone number
Send warranty repairs to:
K&K Sound Systems Inc
Attn: RA # [Please indicate your unique RA number here]
92798 Cape Arago Hwy
Coos Bay, OR 97420
View All
Close
11 Reviews
Robust, powerful, and great tone

K&Ks are my preferred piezo pickup - reliable, hot output, and good sound. This Bass Max has all those qualities, pre-dialed-in for bass. Less scratchy / quacky high end than other piezo pickups I've used. Installation was easy (for me - I'm an amateur luthier and not afraid to sand and file down the bridge a bit). Mark's great instructions will assist non-luthiers.

I've purchased approx. a dozen of these in the last 15 years, (all of them from Bob & Mark) . They always work great. Thanks

You really can't beat the Bass Max for the price. I used to have a Realist on my bass, but honestly the Bass Max just sounds better--more balanced, more clarity, less mud. (But still plenty of lows). And the the convenience of being able to quickly take it off/put it back on is a huge bonus. The sound is pretty natural and works well with both pizz and arco. No pickup is going to sound 100% like the natural tone of the bass, but I've found the Bass Max gets closer than most, especially in the price range. It's a high output pickup, but very high impedance, so you will likely need a pre-amp for impedance matching to get the best sound. I use an LR Baggs Para Acoustic DI, which sounds fantastic. I've seen several other similar bridge-wing type pickups, but the Bass Max seems like the best design and the most durable to me. The transducer is composed of two piezo elements with a springy, compressible material between them. This is wrapped in a tough, fitted, rubbery material. This design ensures a snug fit without too much precise sanding and is easy to take on and off. Also, I like the way the jack mounts between the strings--I know some have complained about this, but I've personally found it better and less likely to buzz than most of the other designs that mount to the tailpiece. I ended up installing mine on the G-string side of the bridge after some experimentation. The string to string balance was better that way on my bass. Every instrument is different though.

The Bass Max was relatively easy to install and produces a clear, loud sound with lots of low end. So far there is no noise at all and no feedback. I was also pleasantly surprised by the arco sound. If you're looking for that magical device that reproduces the sound of your bass in an amplifier keep looking, but this sounds good and you will hear yourself on the gig. I also want to send a shout out to Mark for being so responsive to my questions before and after the order was placed.

Reliable and long-lasting!

I got this pickup when about 9 years ago and have never had an issue! I used it all throughout high school, college, and post grad ensembles/bands/gigs. It is extremely durable and works like a charm!
View All
Close