Description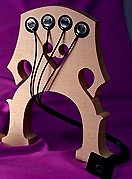 The Double Big Twin was my first K&K "love," and I still consider it to be a great choice for string detail oriented jazz play*, especially for the price.
*"Jazz Play?" Let me just define which jazz: in this case I am talking the more modern style of jazz that emphasizes string sounds and clarity, not New Orleans or old-timey jazz — for that bigger and thicker style bass, but still with decent string definition, I'd suggest the Bass Max or Fishman Full Circle. Better yet, choose the Bass Master Pro, which combines the Bass Max and Double Big Twin with a two channel blender, for the widest palette of sounds from which to choose.
Of course, there are a lot of other pickups worth considering, depending on your personal desire for "the sound."

As you can see in the photos, there is an individual transducer for each string, and their close location to the string/bridge contact point means a heavy string emphasis (with less "wood") in the sound. For that reason, I particularly like the Double Big Twin as part of the K&K two pickup system, the Bass Master Pro (see our other items), since blending it in with the Bass Max allows you to increase or decrease string emphasis.

Installation is easy (more about that later) using a thin adhesive film, and the discs are about 3/4", with a slight lift where the wire attaches. The output jack is on a clip that mounts on any pair of strings above the tailpiece. There is also a 5-string version with five transducers; while it is considered a "special order item," we can usually have one on its way to you quickly.

So how does it sound??

The Double Big Twin's strength is its clarity and definition, but yet with body to it, not that typical thin piezo sound. It is the more accurate sound of the string, its interaction with the fingerboard, capturing sustain, vibrato, and... oops! better watch the intonation with this baby! While you hear mostly the sound of the instrument's strings, thanks to its location, it's warmer-sounding than other string-centric pickups I've heard.

What about arco?

Do you bow? If arco is a large part of your repertoire, you might think twice. A potential reason to consider a pickup like the Bass Max over the Double Big Twin is that if you get a pronounced scratchy style of arco tone due to your strings (or technique), this pickup — being very close to the strings — will accurately reproduce it. What you play is what you get.

If you prefer a slightly thicker and more balanced sound, with more mids, but still with all the definition you need, the Bass Max may be a better choice -- see its page for further information and photos. And the Bass Master Pro offers sort of a combination approach (with both the Double Big Twin AND the Bass Max, and a two-channel blending preamp), so you can have your cake and eat it, too.


Do you want fries, I mean, a preamp with that?? I STRONGLY recommend you use an appropriate preamp with the Double Big Twin for the best results, or you may not be a happy camper. Read details on my FAQ: Do You Need a Preamp page - your amp may already be compatible or you may already have a box that can do the job. This is important, no marketing BS, some pickups, like the Double Big Twin, must have the proper input impedance (1 megohm or higher) to sound as intended.


Notes on Installation
The unit comes with its own special adhesive to mount the transducers to your bridge. Position changes in relation to each string does not make a huge difference, so don't expect to make up for a weak or more powerful string by positioning the transducers. To make sure you can easily install the pickup yourself, I include a copy of my personal notes with every pickup and preamp purchase, which includes my experiences and advice. It can give you further insight on installation - and more.
Product Manual
Need to figure out some of the more in-depth features of this product? Here's a copy of the manual, in PDF format, here.
You may wish to visit the manufacturer's website to see if a more recent version is available.
View All
Close
Warranty Information
K&K grants all customers a 12-month (1 year) warranty that our products are free from defects in workmanship and materials with normal and proper use. K&K reserves the right to inspect all warranty claims and ensure that the item has not been altered, repaired, subjected to misuse, or damaged by improper installation. These will void the warranty.
For valid warranty claims, K&K will repair the item and ship it back to the customer for free, via the lowest cost shipping method. Initial shipping charges are to be paid by the customer. We normally have a 1-2 business day turnover time for repairs.
Initiating a Warranty Claim
Please test the K&K product thoroughly to ensure that it is the source of the problem (not a cable or other unit used in combination with the item). If the product requires a battery, ensure that the battery is new and fresh.
Call K&K (1-800-867-6863 x107) or e-mail tech support to obtain an RA number. This number is valid for 10 days. Items returned without a valid RA number may not be processed.
Include proof of purchase to show that the item is within the 12-month warranty period. If proof of purchase cannot be obtained, or if the item is outside the warranty period, a repair fee may be charged.
Package the product securely. K&K is not responsible for damage incurred during transit.
Please include the following information with the package:

RA number
Description of the problem
Copy of invoice, sales receipt, or similar proof of purchase
Complete contact information with phone number
Send warranty repairs to:
K&K Sound Systems Inc
Attn: RA # [Please indicate your unique RA number here]
92798 Cape Arago Hwy
Coos Bay, OR 97420
View All
Close
1 Review
My first experiences with your firm has been great! Thank you for guiding me to the upright bass pick up (K&K Sound Double Big Twin URB) that I put on my Palitino VE 500. It took an entry level bass and made it into the real deal. I am running it through a Ampeg SVT-4 w/ an SWR Goliath 4x10 and it will sound good enough to turn heads. Tuesday I am taking it to the Studio, and have three shows yet this week. I can't wait.
View All
Close