Corelli 350 1/2 and 1/4 Size Upright Bass Strings
SKU:

UPC:

MPN:

FREE SHIPPING:

To all 50 US States

PRODUCT OPTIONS:

Multiple Sets & Single Strings Available
Description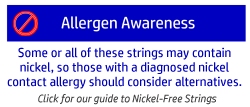 These strings (in their 3/4 size incarnation) are my personal favorite for my own particular double bass needs -- but that doesn't mean they are perfect for you. I like them for their versatility and articulate sound. These are not your Daddy's doghouse bass string... unlike the more typical and earlier string types, these have an edge to their attack, rather than the traditional blunter attack. Physically, they are thinner in gauge when compared to other strings using the typical Light/Medium/Heavy sort of measurement scheme. I also find them to be more flexible, less stiff, so I can really dig in. I have hand/nerve problems so I prefer a string that responds more easily and with less effort. They can be bright, especially initially, but calm down after play. They are also very easy to bow. I have used them sucessfully with magnetic pickups. The next paragraph is some of the marketing stuff from Corelli:


Essential discoveries in specific materials like sophisticated rope cores and specially treated high-tech metals, give these strings their exclusive characteristics. They are the result of several innovating technologies applied to their composition and winding process. Their thinner gauge allows a very bright sounding and great playing easiness. The high precision of their diameter, obtained thanks to computerised techniques of polishing and gauging, offer a perfect tuning accuracy. The 350 orchestra strings benefit from the Tungsten technology thanks to which the strings are thinner than the usual ones, easy to play, and much more brilliant.

Did I mention they are made in France by Savarez, and that Francois Rabbath was involved in their development?

View All
Close
2 Reviews
I bought these based on Mark's description of the Corelli 370 series strings. I'm a beginner on the double bass but am experienced on the electric. These strings feel high quality and I find them quite suitable: Their tension and response seems even across the fingerboard. The sound is responsive and pleasing to me. I bought these to replace a set of D'Addario Helicores (medium 1/2). The string diameters of the Corellis are narrower for the D, A, and E strings, but the overall tension feels about the same. I hope this is helpful.

I just wanted to tell you how pleased I am with the Corelli (350A) strings. I was able to put them on (my BSX Allegro Electric Upright) over the weekend, and wow what a difference. Since I bought my Allegro used, I am not sure how old the strings were on them, but these make the instrument come alive again. While I know a EUB will never sound like the real thing, I had hoped my Allegro would sound better than it did when I bought it, since it was one of the more popular models. I'm guessing the old strings must have really been dead, because this actually sounds quite a bit more like a real upright now. The tension is considerably lower than the strings I had on there, and it plays much easier for me. All things considered, I am very pleased with the purchase, and appreciate the customer service. I'm excited to plug in the old EUB again, thank to a great suggestion on strings.
View All
Close