Corelli 380 (Nickel) Upright Bass Strings
SKU:

UPC:

MPN:

FREE SHIPPING:

To all 50 US States

PRODUCT OPTIONS:

Multiple Sets & Single Strings Available
Description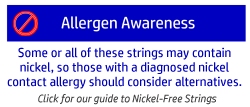 Corelli's 370 strings are among my personal favorites for my own particular double bass needs. Corelli's 380 strings offer an even more affordable alternative, making them a good student string.

While similar in design, the 380 strings are a bit thicker in diameter than the 370 strings because they are wrapped with nickel (compared to the use of Tungsten Steel in the 370's, resulting in higher mass). They're available in two gauges: medium and extra forte (M, TX). As with the 370's, they have a lighter feel than many other strings - the "Mediums," particularly, are fairly light and easy on the hands.


How do they compare? Overall, they have a generally darker, "woodier" sound than the 370's - while made of metals, they don't have a very "metallic" sound... but they do have plenty of sustain. The string surface is not as smoothly finished as the 370's. They reportedly work well for pizzicato (plucking), with good volume overall, but if you prefer a "big, powerful bottom end," you might find the E string a bit lacking. For arco (bowing), they reportedly bow as easily as the 370's (though this can vary depending on your rosin and your ability).

The 380 strings from Corelli can be a very good choice for students and/or players on a budget who need a solid "hybrid" string.
380M
(the "lightest"
gauge)
Diameter
(inches)
Tension
(pounds)
380TX
(the "heaviest"
gauge)
Diameter
(inches)
Tension
(pounds)
G
381M
.049
53
381TX
.049
59.5
D
382M
.056
55.3
384TX
.059
62.4
A
383M
.073
52.8
384TX
.079
62.2
E
384M
.098
57.5
384TX
.100
60.6

Chart and data © Gollihur Music. Tensions supplied by manufacturer, gauges measured by us, using a digital caliper.

Bob's STRING CHANGING INSTRUCTIONS are included with every string order!
View All
Close