Bass Cub Pro Combo Amplifier
SKU:

UPC:

MPN:

FREE SHIPPING:

To the Continental USA
Description
We were among the very first dealers to bring Phil Jones amps to the US market, and we've brought them back on board!
I'll be updating the specs on this amp with my personal descriptions very soon. In the meantime, here's the information as provided by PJB.
The PJB Bass Cub Pro (Model BG-120) is the ultimate in the evolution of the popular Bass Cub ultra-compact bass amplification series from Phil Jones Bass.
The power amplifier section has been completely redesigned and has been fortified to deliver as much as 200 watts RMS of pure tone to go. Together with PJB's Chrome-Dome speaker technology it provides far greater transient attack from improved loudspeaker cone acceleration, greater dynamic range, and lower harmonic distortion. It will provide increased headroom and speed to capture every nuance of bass playing, from gentle fingerstyle to hardcore slapping.
The speaker design and efficiency is the result of PJB's commitment to driver research at Phil Jones's laboratory that features a Klippel laser measurement system and a massive anechoic chamber.
As a stand alone combo the Bass Cub Pro will deliver 120 watts RMS into the internal speakers and will increase to 240 watts RMS with the addition of an extension cabinet. The pre amp is a 5 band eq single channel unit with Low Bass, High Bass, Mid-Range, Low Treble and High Treble controls with +/- 18dB of boost or cut on each control.
The cabinet is constructed of solidly braced Baltic birch plywood and is appointed with luxury "tolex" covering with color options of both Burgundy Red and Black. The input has a switchable gain (for active and passive basses), mute switch, and LED clip indicator which will accurately match all bass instruments. The FX Send/Return sockets feature a blend control to achieve desired balance between FX and dry signals. An auxiliary input has a level control for quick mixing of external devises such as a drum machine or iPod/MP3 player, which are audible through the stereo Headphone Socket or speakers.
Two Speakon sockets on the back are devised for an 8 ohm extension speaker such as a PJB C2 or C4, or C8 cabinet and for the PJB EAR-Box, which is a dedicated personal micro-close field monitor for musicians. A voltage selector switch allows the amp to run on any AC power worldwide. PJB's exclusive heavy chromed steel armored corners adorn the cabinet with stainless steel hex screws. A plush heavy duty stitched leather handle makes carrying the amp a comfortable task. The cabinet can tilt to increase sound projection when placed on the floor and 8 rubber feet allow the cabinet to be placed vertically or horizontally.
All knobs are PJB precision machined aluminum and all ¼ inch sockets have been upgraded to the finest available.
The back panel features ¼ inch line out post EQ and a balanced XLR with ground lift switch for DI into recording or live mixing console. The socket can be switched pre or post EQ.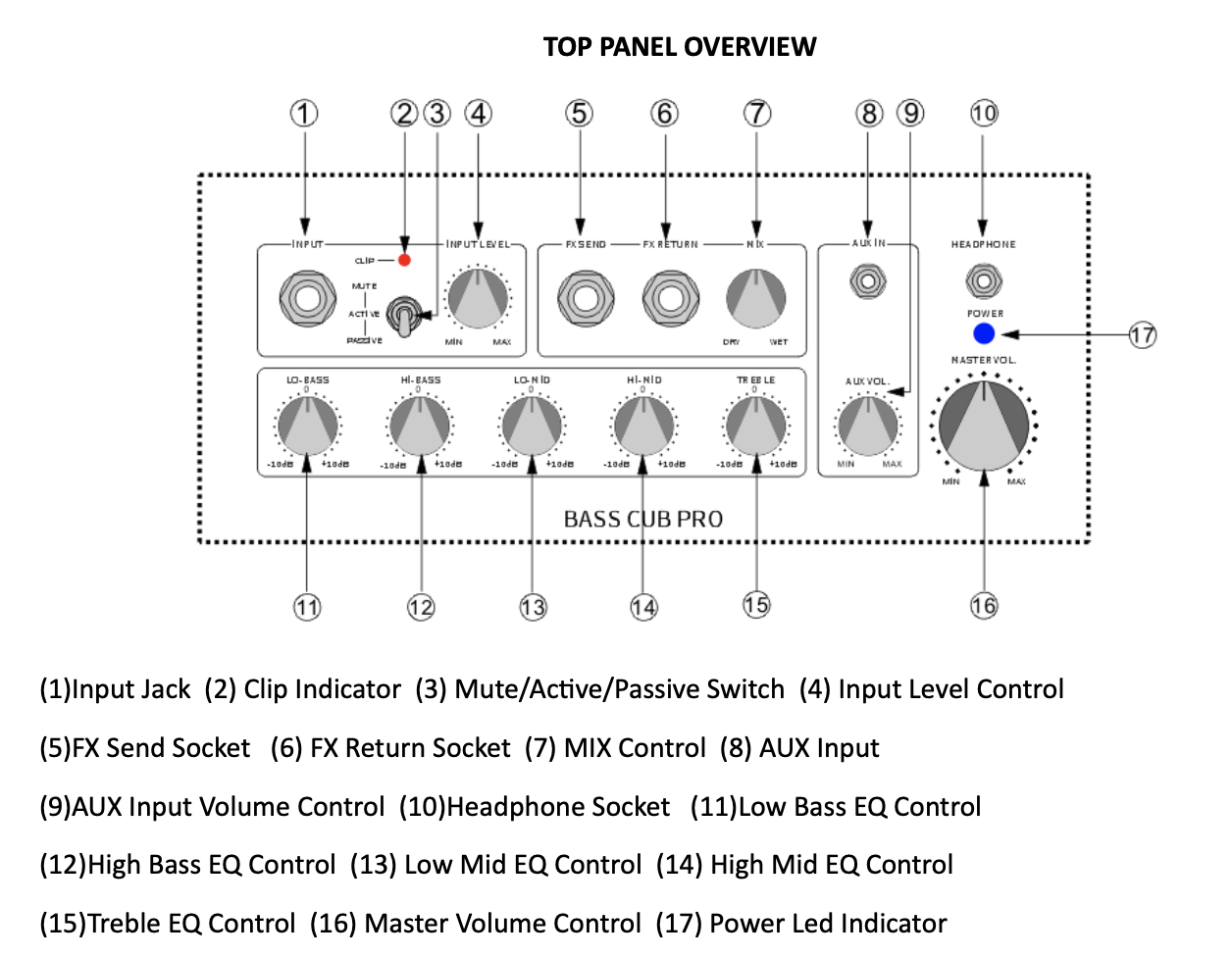 Model
Bass Cub Pro / BG-120
Power Output
120 watts at 8 ohms
(240 Watts rms at 4 ohms)
Speaker
2×5″ PJB Neo-Power Chrome-Dome units
EQ
5-Band EQ: Lo Bass / Hi Bass / Mid / Lo Treble / Hi Treble
Input
Mute/Passive/Active with select Switch , and LED indicator
Output
Headphone Out, Tuner Out, Line Out, XLR Balanced Out w/Ground Lift
Other
Master Volume, Input Gain Volume, Auxiliary Input Volume. FX Blend. Soft cover included
Power
100/240V AC
Dimensions
12″ x 11″ x 7.8″ inch / 306 x 279 x 197 mm
Weight
16.7 lbs / 7.6Kg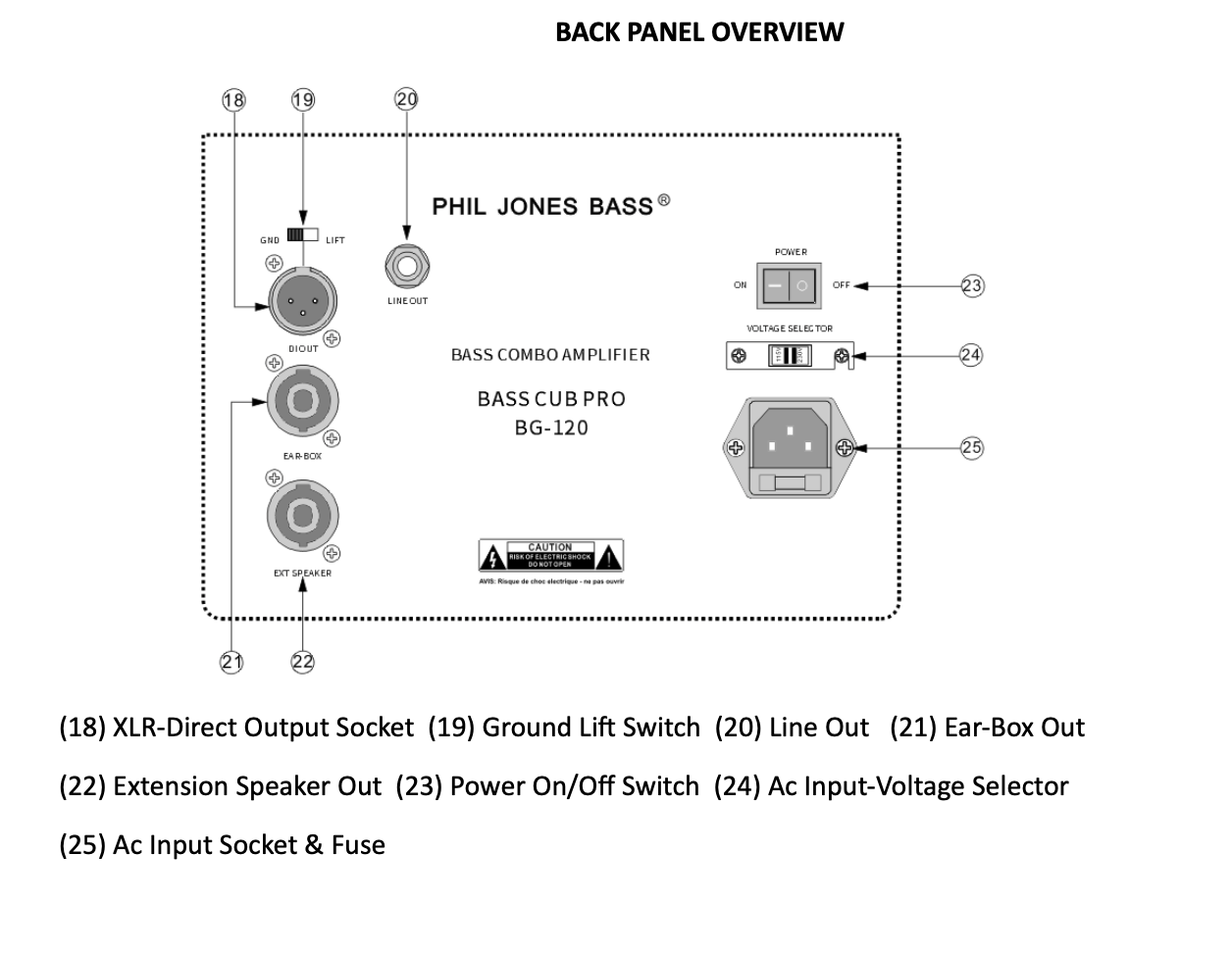 Product Manual
Need to figure out some of the more in-depth features of this product? Here's a copy of the manual, in PDF format, here.
You may wish to visit the manufacturer's website to see if a more recent version is available.
View All
Close
Warranty Information
Warranty Information
PJB amplifiers carry a 2 years limited warranty on parts and labor.
Products must be purchased from an authorized PJB dealer.
Buyer must complete and return the enclosed warranty card within 15 days of purchase, or register online.
This warranty covers defect in materials or workmanship that occurs in normal use. Within warranty period PJB or its local distributor will repair or replace the defect unit free of labor and parts charge. It is the buyer's responsibility to use the unit strictly according to instructions written in the owner's manual.
This warranty is not transferable; it is provided to original owner only.
Damage/defects caused by the following conditions are not covered by this warranty:
Improper handling, neglect or failure to operate the unit in compliance with the instructions given in user manual;
Connection or operation in any way that does not comply with the technical or safely regulations applicable in the country where the product is used;
Repairs or modifications by anyone other than authorized PJB service agent;
Speakers are not covered for damages caused by incorrect connection, or when powered beyond the limit described in the user manual.
Manufacturing defects are typically detected during early usage.

IMPORTANT:
In all warranty issues your first line of communication should be to the retailer you purchased from, even if you have purchased product from an online source.

When a local distributor is available, customer who prefers to purchase across country online may be required to pay shipping charges to retailer in order to obtain service.

Warranty term/condition might be different depending on the country you are in. Please contact your local distributor for details.

Further questions, please contact PJB by email info@philjonespuresound.com, or call (855) 227-7510.
View All
Close
1 Review
This amp defies the laws of physics

The older I get, the smaller and lighter I want my gear to be. These are hard criteria for bass amps because the laws of physics dictate that producing good sounding bass frequencies requires size and mass. My approach has been to use small Class D amp heads and build my own cabinets with lightweight Eminence neodymium speakers. This PJB Bass Cub Pro amp is my new amp of choice. It sounds astonishingly good, even with a 5-string electric, and is loud enough by itself for any rehearsal and some gigs. And with my preferred 12" cabinet as an impedence-matching extension cab, this amp can handle any stage I play on. The power and low end that Phil Jones manages to put in such a small package simply defies belief. Excellent controls, EQ, and overall design as well. My other Class D amp heads and all but one cabinet are now strictly back-ups, and may be Craig's List bound.
View All
Close