Carbon Fiber ARTIST Double Bass Bow
SKU:

UPC:

FREE SHIPPING:

To all 50 US States
Frequently bought together:
Description
I held off getting a mid-range carbon fiber bow for a long time; I was waiting for the quality to go up (and the prices to come down.) For a while there, it seemed like most of the Carbon Fiber bows I could find for under $500 were more concerned with how they look than with how they play; pretty much a gimmick item that ends up being a waste of money for everyone involved. But now, I've found this wonderful bow, which is quite well-appointed, nicely balanced, and very finely haired. Yet, this is also a very good-looking bow, with a warm brown color, ebony frog with pearloid inlay, and a real woven carbon fiber finish; proving you can have form AND function. Modern materials in a "real" bow (not just a "bow-shaped object"); it's traditional meets high-tech! And with a comfortable, familiar feel, you get get right to work with it.


Available in both French and German (Butler), they have round woven carbon fiber sticks with a fully lined ebony frog* on the French Bow and a half-lined frog* on the German Bow. Leatherette grip and silver wire with ornamental design make for a comfortable hold, and the frog features a mother-of-pearl dot.
I weighed a representative pair of bows, and both the French and German bows weighed in at around 136 grams; a surprising thing, because usually a German bow will be a few grams heavier than its "matching" french bow - but the German bow is a bit lighter than expected, which may appeal to you. I expect the weights to be very consistent, as these are carbon fiber bows, and therefore the material is of a consistent mass and the shape is not hand-carved, but rather molded in a form.

Yes, there are much cheaper -- as well as much more expensive -- "Carbon Fiber" or synthetic Bows out there. As with most anything, it's not just the materials used, but quality and craftsmanship that matter. Your bow is as much a musical instrument as your bass is.

I've seen plenty of cheap CF bows -- and tried a lot of them. None come close to the quality of this bow in this price range. So know that I can very easily get high-profit, cheaply made bows to sell for a bargain price, as to compete with the lowballs you can find on eBay, but I would rather offer a considerably better quality bow like this one -- at a fair and reasonable price.
All of the "Artist" bows have white horsehair, and they took rosin quite easily when we first got them in -- they started playing quite well with minimal break-in, and had a warm, full tone. These bows are considered 3/4 size (though be aware that there are no strict rules on sizing, and various bows can have different frog dimensions, lengths, and bow hair length). The French bow is 28¼ inches end to end, with about a 22 inch hair length. The German bow is 30 inches end to end, with about a 21 3/4 inch hair length. The French weighed in at around 130g, the German around 132g, and the balance feels very good.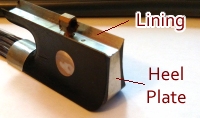 * Fully Lined/Half Lined: Nicer bows have a metal lining, usually of nickel or silver, which is fitted to the top surface of the frog, to allow the frog to glide smoothly along the surface of the stick when tightening and loosening the bow hair. This is called a "half lining," which is featured on all of our Artist Carbon Fiber bows. Additionally, our French bows also have a heel plate, which is an matching, inlaid metal piece that rounds the corner on the back of the frog, down around to the pearl slide on the bottom; the addition of this heel plate to a half-lined bow is what makes a bow "fully lined." The heel plate is rarely used on German bows because of the different profile of the back of the frog, so it's not a "downgrade" to not have a heel plate on a German frog; it's actually pretty normal and expected.
Do you do Bow Trials?

Some sellers provide a service where they send you three or four bows to try. You give them all a go, and send back the ones you don't like as much, keeping the one bow that you like the most. We don't do that with these bows, and here's why: at this price point (and with the consistent nature of the carbon fiber material), it's simply not worth the cost or the trouble to either of us. Why not? When bows are played and returned, they must be inspected, cleaned, and restocked, and this costs time and money. Shipping bows requires care in packing, and insurance. This also costs time and money. And, to be fair, most players very likely won't perceive a meaningful difference between a random handful of these bows; they're incredibly consistent, and -- with all due respect -- if you can, you're probably shopping for bows in a much swankier price range (like $2,500 and up.) So, rather than raising the prices, to subsidize the costs of providing this rather dubious service on bows that cost under $400, we instead provide you with an professionally-appointed, consistently-crafted carbon fiber bow at a really affordable price.

However, I do want you to be fully satisfied with your bow purchase. So if you find it unsatisfactory, you may contact me within 7 days to arrange a return for credit or refund. Small deductions for shipping and other costs will reduce your refund slightly, but we're fair - you can contact me for the full details on how it works.
View All
Close
1 Review
I just ordered this bow as a backup to my regular. It came to my home VERY quickly. I pulled it out of the box, rosined it up, and I have to say, I am very impressed. It is a great bow. Well balanced and easy to handle. It grabbed the strings right away. And very reasonably priced. I am delighted with it.
View All
Close