Product Overview
We've carried this same bow, in both German/Butler Style (top in photo) and
French Style (bottom) from the same maker, for around 18 years now. It's been consistently and enthusiastically praised by customers worldwide for its balance, playability, and value. The same dependable maker has been crafting these bows for us the entire time, and they are in fairly constant use by students, professionals, and bass majors in colleges everywhere.
A little learnin' for ya:
Brazilwood is not actually a specific wood, but a named grouping of closely related woods (several trees of the family Leguminosae, if you want to geek out a bit.) This grouping of woods is wonderful for making bows; they have straight grain, wonderful acoustic properties, and a warm reddish color. Further geeking out: the color is where it gets its name; Portuguese explorers finding the trees on the South American coast found that the wood yielded a valuable red dye, and named the tree pau brasil, meaning, loosely, "red wood." Trivia time: That's where the country of Brazil got its name!

Pernambuco is a particular tree of the Brazilwood family that is traditionally prized for bow making; it's more expensive to obtain, so a true Pernambuco bow is often also more expensive. We have Pernambuco bows available, from the same maker -- with upgraded fittings like silver wire wrap -- as well. You can find them listed in the "related items," below.

The bows have octagonal Brazilwood sticks with a fully lined* (French) and half-lined* (German) ebony frog, which at this price point is a very pleasant surprise! A typical French bow weighs in at around 135g, the German around 136g, and the balance feels very good. They all come with a leatherette grip for comfort, and the eyes in the bow frog are of real abalone mother-of-pearl (not plastic). They have striped plastic whalebone material on the frog end of the stick, exactly like Bob's personal bow -- and that bow has held up since 1964.

Yes, there are much cheaper -- as well as much more expensive -- "Brazilwood Bows" out there. As with most anything, it's not just the base materials, but quality and craftsmanship that matter. Your bow is as much a musical instrument as your bass is. I can easily get bows to sell for a cheaper price to compete with the lowballs you can find on eBay, but I would rather offer a better quality bow at a reasonable price. The excellent reviews for these bows over the last several years speak for themselves.

All bows now have a dark horsehair blend; it's a really nice feeling hair, not too coarse but with nice grab. We call it a "chestnut blend"; it's more accurately more of a mid to dark blend of black and chestnut, which players have found to be very agreeable. These bows are considered 3/4 size (though be aware that there are no strict rules on sizing). The French bow is 27¼ inches end to end, with about a 20¾ inch hair length. The German bow is 29 7/8 inches end to end, with about a 22 3/8 inch hair length.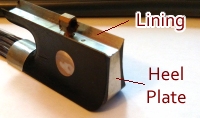 * Fully Lined/Half Lined: Nicer bows have a metal lining, usually of nickel or silver, which is fitted to the top surface of the frog, to allow the frog to glide smoothly along the surface of the stick when tightening and loosening the bow hair. This is called a "half lining," which is featured on all of our Brazilwood and Pernambuco bows. Additionally, our French bows also have a heel plate, which is an matching, inlaid metal piece that rounds the corner on the back of the frog, down around to the pearl slide on the bottom; the addition of this heel plate to a half-lined bow is what makes a bow "fully lined." The heel plate is rarely used on German bows because of the different profile of the back of the frog, so it's not a "downgrade" to not have a heel plate on a German frog; it's actually pretty normal and expected.
What About Bow Trials?

Some sellers provide a service where they send you three or four bows to try, and you give them all a go; you send back the ones you don't like as much, keeping the one you do. We don't do that with these bows, and here's why: at this price point, it's simply not worth the cost or the trouble to either of us. Why not? When bows are played and returned, they must be inspected, cleaned, and restocked; this costs time and money. Shipping bows requires care in packing, and insurance. This also costs time and money. And, to be fair, if you're a student, intermediate player, etc., you very likely won't perceive a meaningful difference between a random handful of these bows; they're very consistent, and -- with all due respect -- if you can, you're probably shopping for bows in a much swankier price range (like $1,500 and up.) So, rather than raising the prices, to subsidize the costs of providing this rather dubious service on bows that cost under $200, we instead provide you with an excellent, consistently-crafted bow at a really affordable price.

AN IMPORTANT NOTE ABOUT BROKEN BOWS: A wooden bow is a fragile musical instrument in and of itself. Especially when under tension, a simple rap against a hard surface (like the post of a music stand) can easily break a bow. Bumping into a bow that is perched on the lip of a music stand is also a common "maker of unhappy bassists" -- the bow hits the floor, and suddenly the stick is in two pieces. I really hate taking those phone calls, because I feel bad - I really do - but it really is exceedingly rare that it's the bow's fault.

Breakage from seemingly innocuous raps against a chair leg is not a sign of a "defective" bow, any more than shattering a glass vase by grazing a marble countertop would be considered the fault of the vase.

We STRONGLY recommend that you (or your children) exercise prudent care with ANY wooden bow, whether bought from us or not.

There are bow "holders" available to help keep them safe; we sell bow quivers (a leather bow "holster" that ties to the tailpiece) as well as inexpensive hooks that clip onto the music stand, providing a safer means for putting the bow down for pizz sections.
Reviews