Product Overview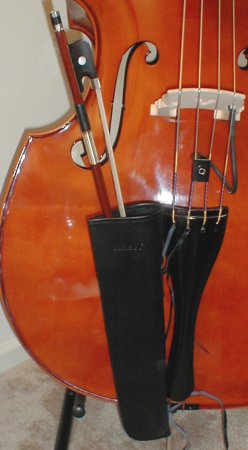 This leather quiver is ideal for placing your bow in a safe and accessible position during performances. It is made from nicely stiff, heavy gauge black leather that holds its shape and makes bow insertion and removal easy, unlike the floppy cheapies. The quiver is about 17.5 inches tall, with leather ties about 2.25 inches from the bottom and 4.25 inches from the top.

It's important to have a well-constructed quiver that will make quick draws possible, as well as a fast return. The interior is lined - meaning that the inside is also smooth leather, not rough suede - so it's smooth and snag-free. Extra-long matched leather ties let you secure it to your tailpiece.

Where can you put a quiver on your Electric Upright Bass!?! (EUB) As you can see from the photo, quivers are generally tied to the bass tailpiece, but if your EUB doesn't have a full size one, what do you do? Both my Eminence and homebuilt EUB (similar to NS Design) lack a convention tailpiece, so I tie my quiver to each of the bass stands.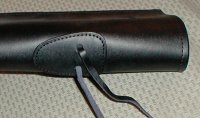 Specially reinforced tie point means this very nice bow quiver will stand up to years of dependable use.
Reviews