Latex Grip Cushion for French Bass Bow (pack of 2)
SKU:

UPC:

MPN:

Small Accessory:

This item ships FREE (USA) in a cart totaling $50 or more
Description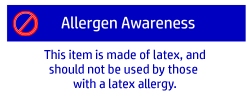 These simple but effective grip "cushions" fit over part of the wire wrap and grip on your French bass bow to provide a grippier, lightly "cushioned" feel for your forefinger. Depending on your particular grip style, it can make holding the bow more comfortable and more confident.
These are commonly used by new players and students, to help ease the development of the proper grip pressure - it's common to grip the bow too tightly and thus fatigue the hand. By providing a bit more confident a hold, you can relax your hand a bit without worrying about dropping the bow.


The grip is installed on one of our popular Brazilwood French bows to the right. The grip does not offer any benefit on a German bow. It should fit most conventional French bows. Note that temporary removal of the frog is required for installation, but that's nowhere near as scary as it sounds and requires no tools or special skills. Illustrated instructions are included!

Comes in a pack of two, so you have a spare in case of damage or wear. Black.

Important Note: These grips are made of latex, so do not purchase or use if you, or someone who will come in contact with them, have a latex allergy.
View All
Close
1 Review
Thank you for the excellent Latex Bow Cushion Grip Tubes. They have a great feel and were easy to install. I was able to roll the tubes onto the stick and over the leather grip and silver winding without damage to the bow and will allow easy removal. The length was perfect as I like to have my thumb cushioned also on the frog contact area. I have been looking for a product like this but found it only sold in bulk etc... The order was prompt and very organized. Thank you for taking my phone order and communications!
View All
Close