Corelli 370 Upright Bass Strings
SKU:

UPC:

MPN:

FREE SHIPPING:

To all 50 US States

PRODUCT OPTIONS:

Multiple Sets & Single Strings Available
Description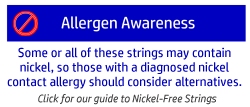 I've chosen to keep this classic product description in Bob's voice (he wrote this text over 20 years ago, and we've been using it from the very beginning). We've carried the Corelli strings for over 20 years and they've always been very popular here. His description is still accurate, and delightfully folksy. :-)
These strings are one of my personal favorites for my own particular double bass needs -- but that doesn't mean they are perfect for you. I like them for their versatility and articulate sound. These are not your Daddy's doghouse bass string... unlike the more typical and earlier string types, these have an edge to their attack, rather than the traditional blunter attack.
Physically, they are thinner in gauge when compared to other strings that use the typical Light/Medium/Heavy sort of measurement scheme. I also find them to be more flexible, less stiff, so I can really dig in. I have hand/nerve problems so I prefer a string that responds more easily and with less effort. They can be bright, especially initially, but settle down after a bit of play to break them in. They are also very easy to bow. I have used them sucessfully with magnetic pickups.
The next paragraph is some of the marketing stuff from Corelli:


Essential discoveries in specific materials like sophisticated rope cores and specially treated high-tech metals, give these strings their exclusive characteristics. They are the result of several innovating technologies applied to their composition and winding process. Their thinner gauge allows a very bright sounding and great playing easiness. The high precision of their diameter, obtained thanks to computerised techniques of polishing and gauging, offer a perfect tuning accuracy. The 370 orchestra strings benefit from the Tungsten technology thanks to which the strings are thinner than the usual ones, easy to play, and much more brilliant.

Did I mention they are made in France by Savarez, and that Francois Rabbath was involved in their development?


A Special Note About Corelli Gauges
Corelli 370 strings come in three different gauges: M (Medium), F (Forte), and TX (Extra Forte). However, due to their construction and composition, the 370M strings -- which, by the way, are the lightest 370 set they make -- feel and play a good bit "lighter" than most other "medium gauge" strings.
This is why we describe the 370M strings as "lighter" and the 370F (which compares more directly to most other medium strings) as the "medium" weight string. If you prefer a string that has a "medium weight" feel, try the 370F (Forte) gauge.
Anyway, they come in M (Medium), F (Forte), and TX (heavy), though even their heaviest, the TX strings, are not as heavy as some other "heavies" - all of their sizes are a good deal lighter than many other strings. I prefer the Forte weight in most cases, though the TX are not much thicker; if you prefer a slightly meatier string, perhaps the TX should be your choice, though I'm not certain you'd be able to tell much difference.
Corelli does not list gauges on their packages; originally I measured and posted each, but I have since obtained the following measurements from them:
370M
(the "lightest" gauge)
Diameter (inches)
Tension (pounds)
370F
(the "heavy" middle gauge)
Diameter (inches)
Tension (pounds)
370TX
(the "heaviest" gauge)
Diameter (inches)
Tension (pounds)
G
371M
0.0457
53.5
371F
0.0453
59.3
371TX
0.0453
59.3
D
372M
0.0520
51.4
372F
0.0547
56.9
372TX
0.0559
60.1
A
373M
0.0642
53.6
373F
0.0677
58.2
373TX
0.0724
63.0
E
374M
0.0831
54.0
374F
0.0866
57.5
374TX
0.0980
61.7

About Extended Range Strings: Corelli does not make a high C string in the "F/medium" Gauge (use the 370m high C) or a Low B in the "M/light" gauge (use the 370F low B). When we package extended range sets, we will automatically make these subsitutions.

SOLO Gauge strings are tuned one whole-step higher than standard bass tuning, and these specifications apply to strings tuned as intended. If you are tuning them to standard (EADG) tuning, the tensions will be considerably lower.

360M
(in solo tuning)
Diameter (inches)
Tension (pounds)
360TX
(in solo tuning)
Diameter (inches)
Tension (pounds)
A1
361M
53.5
361TX
59.5
362M
54.75
362TX
60.85
B3
363M
54.75
363TX
63.15
F#4
364M
54.0
364TX
62.6
Chart and data © Gollihur Music
Important Notice regarding Low E and Low B Corelli strings from the back of their packaging for those two strings (only):
"In mounting the string be careful that the metal-wrapped portion (not covered with silk) does not go around the tuning peg. This could lead to damage and eventually break the string..."
First, let's talk about the E string. In my opinion the wound section is a little long for most 3/4 size basses, and given the close position of the E string winder, the wound section will almost always have to be wound at least partially around the roller. Therefore, if you have a conventional, normal sized acoustic 3/4 size bass and the wound area goes around the peg, if it breaks I will go to bat for you to get a replacement. But I cannot recall a single incident of a Corelli string breaking for this reason in over 10 years. On the other hand, if you have an unusual bass that does not have the usual afterlength (distance from bridge to tailpiece) or have small, electric bass style tuners with small rollers, you are rolling the dice - if it breaks under those circumstances I cannot get credit from Corelli for a return.
I have only had one report of a broken B string, but given the larger size of this string it may be unwise to choose it and attempt an install if the wound string section reaches and is wound around the roller, especially on smaller EUB-style tuners. The warning on the back of the package is valid, and I cannot get credit for the low B string if it is broken under those circumstances.
So you can determine if the strings are suitable for your instrument, we've measured the strings from the string side of the ball to the threaded part. measurement of the 374F (low E) string is 54 5/8 inches; the same measurement of the 376F (low B) string is 52 3/4 inches.
View All
Close
14 Reviews
CORELLI 370 UPRIGHT BASS STRINGS

Great sounding strings. I use them for bluegrass. Very easy on the fingers and a great guage.

Corelli 370m as installed on an ergo 5 eub

These strings are a decent fit for this odd bass. The tailpiece end fits properly without the thread going over the bridge. The eadg strings can be installed without modification but some careful trimming at the tuning machine end. Have not played them yet but they seem comfortable and resonant on the instrument without hearing through an amp.

Hi Mark, this really isn't a question. I talked to you a couple of weeks ago about the Corelli 370 bass strings. I ordered a set, and thank you for the prompt shipping. You have no idea what a difference these strings made over the strings that were on it before. My bass actually came alive, I couldn't believe the difference. I love the sound so much with the new Corelli strings. It has the nice growl and especially how the low E speaks out so well. The sound is even between all 4 strings. I'm so glad I got these Corelli strings. I just wanted to let you know. Thanks

The Corelli 370 strings have been great! I play mostly outdoors at farmers markets here in Dallas and I love the ease of playing the Corelli strings. I a happy camper again. Thanks!

My Upton Ply just LOVES the Corelli 370F. I switched from Spiro Med. and the bass came to life - louder, richer, just huge. I've used Zyex, Evah, Innovations - but never got a response like this. Have a great day.
View All
Close