Corelli 360 SOLO Tuning Upright Bass Strings
SKU:

UPC:

FREE SHIPPING:

To all 50 US States

PRODUCT OPTIONS:

Multiple Sets & Single Strings Available
Frequently bought together:
Description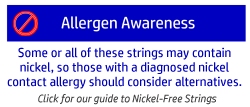 These strings are one of my personal favorites for my own particular double bass needs -- but that doesn't mean they are perfect for you. I like them for their versatility and articulate sound. These are not your Daddy's doghouse bass string... unlike the more typical and earlier string types, these have an edge to their attack, rather than the traditional blunter attack. Physically, they are thinner in gauge when compared to other strings using the typical Light/Medium/Heavy sort of measurement scheme. I also find them to be more flexible, less stiff, so I can really dig in. I have hand/nerve problems so I prefer a string that responds more easily and with less effort. They can be bright, especially initially, but calm down after play. They are also very easy to bow. I have used them sucessfully with magnetic pickups. The next paragraph is some of the marketing stuff from Corelli:


Essential discoveries in specific materials like sophisticated rope cores and specially treated high-tech metals, give these strings their exclusive characteristics. They are the result of several innovating technologies applied to their composition and winding process. Their thinner gauge allows a very bright sounding and great playing easiness. The high precision of their diameter, obtained thanks to computerised techniques of polishing and gauging, offer a perfect tuning accuracy. The 370 orchestra strings benefit from the Tungsten technology thanks to which the strings are thinner than the usual ones, easy to play, and much more brilliant.

Did I mention they are made in France by Savarez, and that Francois Rabbath was involved in their development?

SOLO Gauge strings are tuned one whole-step higher than standard bass tuning, and these specifications apply to strings tuned as intended. If you are tuning them to standard (EADG) tuning, the tensions will be considerably lower.
360 Series Solo Gauge Sets
360M
(in solo tuning)
Diameter (inches)
Tension (pounds)
360TX
(in solo tuning)
Diameter (inches)
Tension (pounds)
A1
361M
53.5
361TX
59.5
E2
362M
54.75
362TX
60.85
B3
363M
54.75
363TX
63.15
F#4
364M
54.0
364TX
62.6
View All
Close
1 Review
I put these bass strings on my 5-string Eminence and it is a great pleasure. Setting up was much easier than my old strings and they play so smoothly and comfortably. And that while the sound is more than excellent. Thanks to the very knowledgeable advice from Mark Gollihur, who recommended these strings to me.
View All
Close