Here's why buying your bass gear at Gollihur Music is different (better!)
I'm very aware that there are plenty of musical instrument stores, particularly online, where you can spend your bass dollars. If you have a local mom-and-pop music shop, I don't mind losing your business to them; we should support our local "bricks and mortar" stores whenever possible. But for those upright bass items you can only easily find online, we work hard to always be your first place to shop.

Recently, as I was assembling the latest shipment of Krivo pickups into our custom packaging, it occurred to me that it was a perfect example of how we do that. Here we have a specialized upright bass product, hand-made in the USA. Only a few stores even carry it. Could you find it somewhere else, maybe at eBay, or at another online store? Probably. You might even find it a dollar or two cheaper.

But here's where the difference is: We don't just want you to buy it -- we want you to love using it. We want you to be able to open it up, install it yourself without difficulty, get great sound without frustration, and have everything you will need to do so already in the box.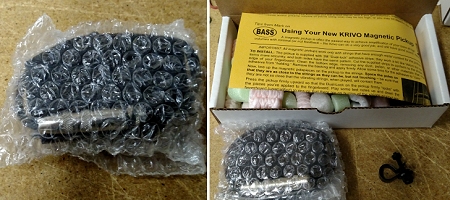 Look at the photo above. On the left is how everyone else, to my knowledge, ships the Krivo pickup. It's how Jason at Krivo Pickups provides it - a hand-made pickup in a bubble-wrap packet (current packets are opaque instead of clear, but you get the idea). On the right is what you get from Gollihur Music when you order a Krivo:
The Pickup, wrapped in the bubble-wrap packet
Packed into a retail-style cardboard container with color product label
A special 4-piece jack mount kit for easily mounting the jack to your tailpiece
A detailed instruction sheet, carefully written by yours truly, with tips and help for installation and use, so you don't have to go it alone
Now, are these extras expensive? Not really; all told, the box, sticker, jack mount kit and printed paper don't really cost me any significant amount of money to add to your package. But what hopefully makes the difference is that I saved you the the time figuring out what parts you'll need for the jack mount kit (and sourced them for you so you don't need to make a trip to the hardware store). And I fussed with the pickup to determine what you need to know to have a successful install, and shared that information with you before you had to ask. And I went through the trouble to pack it all into a nice box that will protect the pickup -- and give you the feeling that we really care about the impression you get when you open a package we've sent to you.

We don't only do this for the Krivo, of course. You will automatically receive tip sheets, extra stuff, and in-depth instructions for all sorts of things you buy from us -- strings, bridges, preamps, pickups, amplifiers, bass buggies and wheels, bows... the list goes on. We strive to provide you with the answers you need before you've even asked the questions. (But we're also here to answer the questions we didn't anticipate!)

This is the philosophy that has driven the way we do things from the very beginning, when my dad, Bob, first started shipping K&K Sound Pickups back in 1997 -- and is the basis of what I continue to make a guiding principle today.
I sincerely hope that you notice "The Gollihur Music Difference," and also that you know that we will continually strive to exceed your expectations every day.
News/Blog
I heard from a customer who told me that he was talking to the owner of another bass shop (a shop wh …

Well, at least in the Northern Hemisphere, it is. And, with COVID-19 still a factor, things are s …

Here's why buying your bass gear at Gollihur Music is different (better!) I'm very aware that there …