NS Electric NS710 for Electric Upright OMNI Bass (aka Bass Cello)
SKU:

UPC:

MPN:

FREE SHIPPING:

To all 50 US States
Description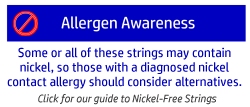 The NS Electric line was developed as a joint effort between Ned Steinberger and D'Addario Strings. Because volume is unlimited for electric instruments, NS Electric line focuses on tone and expressive nuance rather than acoustic power. It brings out the richest tone from any electric instrument, and work well for acoustic instruments when subtlety of expression is paramount.

NS Strings are mostly made with stranded steel cores wrapped with aluminum, brass, tungsten, nickel, and stainless steel. The line is designed for use with electric upright basses using NS Standard Double Bass string length.

The Bass Guitar/Bass cello (Omni Bass) strings are made to fit the OmniBass electric upright bass instruments (34" scale) from NS Design, as well as almost all standard 34-35 inch scale bass guitars. These expressive strings are polished smooth for an intimate feel, with rich bass tone and a clear, singing upper register.

Strings are sold as sets; D'Addario sells the strings in 4-string sets, with high C and low B strings to complete sets for extended-range instruments.

Here are the respective string gauges for the Omni Bass.


Standard 4ths Tuning Strings
Low B:
2.40 mm
.095 inches
E:
1.85 mm
.070 inches
A:
1.40 mm
.055 inches
D:
1.20 mm
.050 inches
G:
.95 mm
.040 inches
C:
.75 mm
.030 inches
View All
Close
Warranty Information
I've experienced a problem with a string (or set of strings). What should I do?

We are sorry to hear of your experience. If you experience a problem with your strings (or string set), you may contact us (D'Addario) to see whether a manufacturing mishap is the cause. If you wish to return the string(s), visit http://www.daddario.com/ra. Please return the string or set in question in its original packaging (including corrosion intercept bag if possible). This will help us determine if a defect or other malfunction has occurred. Upon receipt and evaluation, if a manufacturing defect is revealed, we will quickly send you a replacement.

NOTE: Though it may not be the case in your situation, please keep in mind that premature string breakage is often caused by burrs or rough edges that develop at the nut or bridge/saddle. These rough edges are often difficult to see, but can be ruthless on strings. If your string continuously breaks at the nut or bridge, please check these points of contact for a nice, smooth surface. If burrs or rough edges are found, contact your local music shop or luthier to perform the necessary minor repair to resolve this common problem.
View All
Close