Description
Psst... We can offer special discounted pricing on the CR model violins - but only if you contact us to order!
Ned Steinberger is a prolific innovator in the musical instrument world. At Gollihur Music, we use some of his bass instruments ourselves. The gear that NS Design puts out is top-shelf, and we're proud to be one of their leading dealers. NS Design's violins, available in both 4 and 5 string models, standard and fretted, is becoming the preeminent electric violin on the market today. Designed by Ned Steinberger, has a remarkable tonal range due to its innovative Polar™ pickup system, which is able to selectively capture the string vibration favored for both bow and pizzicato technique with stunning brilliance and sensitivity. The violinist who prefers the elegant tone of a fine acoustic will not be disappointed, and for those who wish to explore new sonic territory, the sky is the limit.

While violins are a little outside our wheelhouse, they're members of the string family, so we're happy to provide these fine instruments for our "thinner-stringed" brethren (and "sistren?")

The solid-body NS Violins incorporate the familiar performance features of an acoustic instrument, including a removable body segment to provide the left-hand reference position of a traditional instrument. Traditional string spacing and scale length facilitate the transition from the acoustic instrument to the world of the electric violin.

Models are available in several different models and price levels, all using a standard violin scale length, and compatible with just about any common set of standard violin strings. The professional, yet affordable CR Series is crafted of higher-end woods and features onboard active electronics. For professionals who don't need all the bells and whistles, the NXT Series offers excellent craftsmanship, with a scaled-back feature set to bring the price down. And for those on a modest budget, or who just want an instrument to "dabble" with, without spending a ton of money, the WAV model offers significant savings -- but remains a professional-grade instrument.



All models are available with either 4 or 5 strings, and the CR and NXT can be had as a surprisingly playable FRETTED model (see at right), which brings a whole new dimension to the violin!


Features
SOLID MAPLE BODY AND NECK: The CR NS Violin is crafted of straight grain quarter-sawn solid European maple body and neck, with a flame maple face. The NXT Violin features a solid, straight grain maple, with maple face (Black model) or flame maple face (Sunburst model) on body. The WAV Violin is also maple/maple, with a flamed veneer for the top. On all models, the traditional violin scale length and neck shape have a familiar feel, while the small body allows full access to the upper register, especially helpful on the 5-string models. Solid construction provides structural stability to resist changes in temperature and humidity.

BODY REFERENCE BOUT: Black-dyed maple bout on treble side provides standard violin reference. Easily removable for unrestricted neck access.

FINGERBOARD: The ebony fingerboard is expertly hand-graduated, with asymmetric relief, to ensure that each note is even and buzz free. An adjustable truss rod allows for precise relief adjustment for different strings and playing style.

POLAR PICKUPS: The NS Violins feature the Polar bridge-mounted piezo pickup system. The Polar pickups can sense either vertical or lateral string vibration (for remarkably even and sustained plucked/pizzicato sound, like a mandolin). In the lateral mode, the pickup has unparalleled sensitivity in the direction of the bow, with more attack when plucked. Attack and decay can be effectively controlled with the Polar pickup system.

CR Model ACTIVE ELECTRONICS: Dual mode preamp allows the player to choose between two distinct tone qualities: (1) the extended frequency response of modern low impedance electronics, for full-blown "electric" sound, and (2) active electronic shaping to replicate the frequency response of the traditional violin, for a more "acoustic" sound. A three-way toggle switch allows the player to select the desired pickup and electronics options.

NXT and WAV Model PASSIVE ELECTRONICS: The NXT and WAV Violin do not have an onboard preamp; the passive circuit has a high impedance output, and no batteries are required. Features a simple and intuitive Volume control and Tone control (treble roll off).
The Straight Dope: What are the differences between the WAV, NXT and CR violin models?
The NXT and WAV violins use a passive pickup, which does not require a battery. The CR model has an active preamp powered by an on-board battery, and offers more control over tone. All violins can easily be plugged directly into an amplifier with good results, and many amplifiers provide enough tone shaping in the preamp section (tone controls). All instruments use NS Design's Polar Pickup technology.

The three models all have maple necks and bodies and ebony fingerboards. The ebony on the CR-series is a higher grade (darker). The CR-series has carved top cap of figured maple on body face; the NXT and WAV use a veneered top.

The NXT and CR models are made in the Czech Republic (Europe) at NS Design's own facility. The WAV models are crafted in Asia.


What is the Adjustable Chin Rest (ACR)?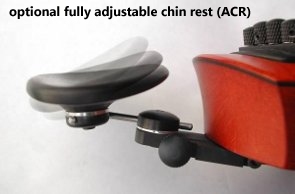 Optimal chin rest position is crucial for player comfort. The extended adjustment of the optional ACR chin rest allows each player to truly customize the chin rest to fit vastly different body shapes and playing styles. The clamping screws in the center of each hub can be adjusted to provide the desired amount of friction to insure that the chin rest does not move in use. You can fine-tune the distance from bridge, as well as the lateral position, of the chinrest -- all to provide the most comfort and playability of your fine NS Violin.
View All
Close
Warranty Information
NS Design will cover all defects in material and workmanship for five years for the CR Series, three years for the NXT Series, and two years for the WAV series from the date of purchase. We will repair or replace, at our option, any instrument or part thereof which is found by us to be defective. This warranty includes the tuning hardware, electronics, pick-up systems, truss rod, bridge, fingerboard, neck and stand. This warranty does not include replacement of strings or batteries, or wear to potentiometers, the fingerboard, or surface finish. Problems resulting from disassembly, modification, customization, or repair by anyone without prior authorization from NS Design are not covered by this warranty. We assume no liability other than for the actual repair of the instrument to playable condition within our specifications. This is our sole warranty, and it includes all warranties, whether expressed or implied. You may have specific warranty legal rights which vary from state to state.
View All
Close