Kay and Engelhardt Upright Bass Replacement Volute (Scroll) PAIR
SKU:

UPC:

MPN:

Small Accessory:

This item ships FREE (USA) in a cart totaling $50 or more
Description
Kay and Engelhardt bass necks are made in bulk runs and do not feature hand-carved scrolls on their pegboxes. Instead, a wooden "applique" is applied to each side, which simulates a carved scroll. They've pretty much always been done this way, from the beginnings of Kay, up until Engelhardt started making their Kay-styled basses in 1970.

We've been carrying the Engelhardt replacement volutes for many years; they're an exact match for the ones that Engelhardt has been putting on their necks for decades.

Roger Stowers of KayBass.com (an excellent resource for Kay Bass information!) did the painstaking measurements of the old Kay bass volutes some time ago, and has been selling them at his website for years. Having tired of going through the trouble to sell things on his website (which is a resource, not a store) he contacted me in the fall of 2014 to see if I'd take over the future manufacture and selling of the volutes. We are very pleased to pick up where he's left off, and sell these volutes directly to you!

These are ALL WOOD scroll pairs; there are three slightly different designs based on what bass you have. If you want the scroll to match up perfectly with the shape of your pegbox, (and be historically correct!) pick the one that is designed for your bass. The three models available are:
Oval model for Kay basses until model year 1952
Round model for Kay basses from 1952 on
"Plain" style for Engelhardt basses (all years)
See the graphic for actual photos of each model. Don't know what year your bass is? Check your serial number against our Serial Number List!

Volutes, as these scrolls are called, are sold in pairs only, as the nature and size of the volutes changed over the years, so a single one might not perfectly "match" an existing one from an older neck.

They are designed to be glued to the neck and finished/stained the same as the neck. (See the photo below for an example of the volutes installed on a neck). They are made of boxwood, which is a good stain/color match for a maple neck.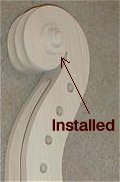 Again - what you are buying is not an entire pegbox, it is the matching pair of "glue-on" scroll pieces shown in the photo above.
View All
Close
1 Review
I recently purchased a set for a 1944 Kay Upright Bass. The pre 1952 scrolls worked perfectly, I appreciate all eras of scroll models being offered for sale. I highly recommend them.
View All
Close