Crossovers String Set for the NS Design Basses
SKU:

UPC:

MPN:

FREE SHIPPING:

To all 50 US States

PRODUCT OPTIONS:

Multiple Sets Available
Description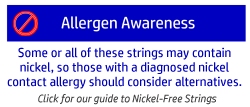 Note: These strings are specially and designed to exclusively fit the FULL SIZE (41.5" scale) basses manufactured by NS Design (NXT, CR, EU and WAV4 models). Those full-scale electric upright basses are the only instruments you can use these strings on.
They are too long to fit the OmniBass (the 34" scale electric upright from NS Design). They are too short to fit a regular upright bass, and may not have the right dimensions to fit other electric upright basses. Contact us if you would like to verify dimensions of these strings vs. your bass before ordering for a different EUB.

Have you been looking for a new string option for your NS Design NXT or CR-model bass, but didn't want to use full-size strings (by wrapping them around the bottom of the bass and up to the keyhole slots?) GHS has created a new option for you!


The folks at GHS Strings consulted with Gollihur Music (and sent us prototypes for testing) as they engineered and executed this new option for the NS Design Upright Basses. The goal was to come up with a "modern hybrid" - almost a "Spirocore" for the NS bass; a string that could be bowed well, but would have a big, powerful pizz tone.

The result is... well, I'll let GHS describe it to you: "a string with a deep and focused fundamental tone, suitable for those needing both contemporary and traditional sounds."

Nickel-Iron Alloy is wound over a round core wire and then micro-ground for a smooth, upright bass feel, and a surface that is quite bowable. The strings have a pleasantly "beefy" physical profile, but wind easily onto the stock tuners on the NXT. Tension is "middle of the road" - not light, but not too heavy either. Overall, it's just a new sonic color to add to the palette of options for the bass. I find that it nicely cozies up between the two "NS Electric" (by D'Addario) options - not a truly "Traditional" sounding string, but rather one that provides nice definition and some edge without being too "zingy."

4-string and 5-string (Low B) sets are available.
These strings are SPECIFICALLY DESIGNED for use with NS Design Electric Upright Basses. They are TOO SHORT to fit a full-bodied upright bass, and are not appropriate for NS Omni Basses or short-scale (1/4 or 1/2 size) acoustic upright basses.

Please only purchase these strings for use with an NS Design WAV, NXTa, NXT, CR, or EU electric upright bass.
View All
Close