Hipshot FreeRange Xtender - Upright Bass String Drop-tuner
SKU:

UPC:

MPN:

FREE SHIPPING:

To all 50 US States
Description
Wickedly Clever!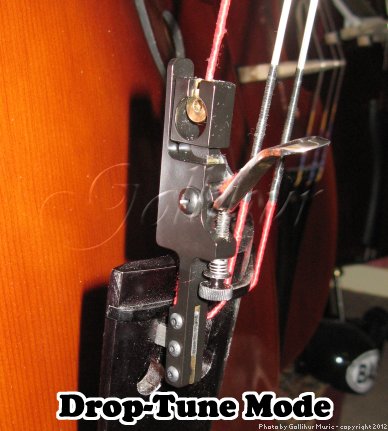 Hipshot originally made their name creating innovative replacement de-tuning keys for electric bass and guitar. They're now a premier manufacturer of those, as well as excellent "standard" tuning machines and other useful hardware items for musical instruments. Now they've taken that same concept of quick, accurate re-tuning, and applied it to the upright bass. Using the new Hipshot FreeRange Xtender, you can play musical pieces that were previously out of the range of your bass (or impractical to try to quickly re-tune the low string onstage between songs.)

A quick flip of the lever retunes any of your bass strings to another, preset pitch. Clearly, in our examples and photos, we're showing how the FreeRange Xtender can be used to de-tune the low E string, down to any pitch from Eb down to B, completely in tune, and back. However, you're not limited to using it in that fashion - you could also put one (or more) on your high string(s) in order to facilitate a temporary "SOLO" tuning. You could even get three de-tuners and switch from standard bass tuning to fifths (cello-style) tuning in seconds!

The detuner features a finely-threaded adjustable "stop" which allows you to both choose the pitch, and very accurately tune it.

The detune lever works with most upright bass strings¹ and most basses², and installation is super-easy; the ball end simply inserts into the FreeRange's holder, and the unit has a bracket that simply hooks into the string opening of your tailpiece. The FreeRange Xtender is "installed" onto your bass in only minutes, with no modifications to your valuable instrument. A felt insert protects the string saddle from damage or pressure from the detuning unit, and no moving parts contact the actual instrument.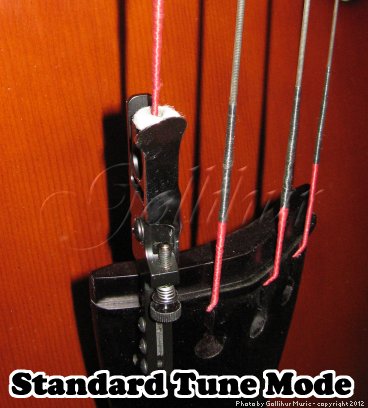 Check out this video which shows Christopher quickly and easily dropping the low E string down to C - and back - in seconds!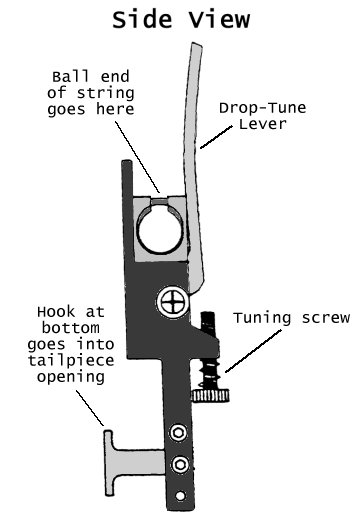 ¹ A Quick Note About Strings:

Strings with a steel core will work much better with the FreeRange; you may find that strings with nylon or synthetic cores have a considerably smaller tunable range when compared to steel strings. Shortly after the initial product release, with some input and assistance from us, Hipshot extended the range of the units to allow for more tuning ability for synthetic strings. All of the FreeRange Xtenders now in stock at Gollihur Music are this newer model! However, some strings still probably will not work well. See the list below, which is not all-inclusive.
You DO NOT use a string set designed for a bass with a "C-Extension" - those strings are extra long, and that extra length is not needed (and in fact, is a problem when installed on an otherwise "regular" bass).

Also note that strings without ball ends (like Velvet strings, which have loops, and gut strings, which usually have knots) will not mount into the machine on the FreeRange Xtender.

Strings NOT RECOMMENDED for use with Detuner:
D'Addario ZYEX Strings (core too stretchy, limited range)
Innovation Strings (all) (core too stretchy, limited range, slug-end on some models does not fit into detuner securely)
Kolstein Heritage Strings (core too stretchy, limited range, string wears prematurely)
Pirastro Evah Pirazzi, Evah Slap, or Obligato Strings (core too stretchy, limited range)
Thomastik Dominant Strings (core too stretchy, limited range)
Velvet Strings (do not have ball ends)
Gut Strings (may not have ball ends, detuning may cause premature wear)
Strings with shorter silks on their ball ends are ideal; they can easily be used with no issues or modification. However, as the string is effectively shortened by about 3-4 inches, some strings with more lengthy silk ends may end up with their silked end extended over the bridge, which is not optimal for tone or proper sustain. The instructions supplied by Hipshot detail the simple process to correct this: you simply "cut back" the silk with a sharp blade, exposing the wound string beneath the silk. They recommend using a drop of superglue to keep the trimmed back silk from unraveling.

² Will This Work On My Bass?

If you have a conventional tailpiece with normal holes, it should mount just fine (this won't work with those fancy wire tailpieces or some other unconventional ones, like those with movable saddles). However, you may want to do a quick experiment to ensure that the other three strings will stay appropriately in tune if you detune one string (usually the E-string) to the desired pitch.

Wait, what? Lowering the tension on ONE string lowers the tension on the entire bass. If you drop the low E down to, say, low C (or even B), this has the effect of lowering the total tension on the neck and the body of the bass. This level of change shouldn't affect the bass itself, but since the bass imparts an equal force to keep those strings stable, it may "adjust" to counter the lowered tension when you flip the lever. The practical effect being that the other strings may compensate for this sudden change by going slightly out of tune. This would be far more apparent on an older bass, and/or one with a carved top. It may not be by much, and you may find it tolerable - however, it could be enough to throw off your intonation.

The good news is that you can easily find out whether this will affect your bass before you buy the Hipshot. Since the Hipshot just automatically detunes the string by physically lowering its tension, you can manually tune the string down to your desired pitch with the tuning machine, and observe whether the other strings stay in tune (enough) to be suitable.






Check out this video from Hipshot which covers installation (and also shows a bass going back and forth from Cello 5ths Tuning to Standard 4ths tuning)


View All
Close
2 Reviews
Great with a steel core string

I received and installed the HipShot FreeRange Xtender on my bass which has D'Addario Zyex strings. (As noted above,) the synthetic core of these strings was too stretchy and would not even allow the bass "E" string to be de-tuned to a true "D" when opened as far as possible. I replaced the Zyex string with one that has a steel core - big difference! I can now "dial" down even to a "B" with some adjustment still remaining. Most of my modulating at this time will involve moving only to a "D." The Xtender now works great and I am extremely happy with it! Thank you for your support in getting me "up to speed" with this product.

Got it quick, works great

Hey Guys, I ordered my Hipshot Freerange on Thursday, and was I surprised when it showed up today (Saturday). Not only was it about $50 cheaper than on the Hipshot website, the shipping was free. I'm damn impressed with the way you guys run things. Keep it up.
View All
Close