SB110 Lightweight Combo Bass Amplifier
SKU:

UPC:

MPN:

FREE SHIPPING:

To the Continental USA
Description
Knowing how well the original Traynor amps had worked, we figured we'd start with the smallest option -- and got them to send us the 1x10 SB110 you see here. As soon as we (Christopher and Mark) plugged in and turned on, we were very pleasantly surprised. The amp carries a surprisingly deep sound -- especially for a 1x10 -- and doesn't exhibit as much "boxiness" as you commonly hear from speakers of this size and weight. It's rear ported, and that port moves a lot of air (we laughed as playing a low E moved a packing peanut across the floor!) But it doesn't "whistle" or huff, even at high volumes.
We know not everyone wants to (or can) spend the bucks to get a boutique amp for their upright bass. We proudly offer and recommend (and use) amps in the Acoustic Image and Euphonic Audio lines, which are highly respected, top-quality brands. But, let's face it - they don't come cheap.


We've always aspired to provide a decent amp option for buyers with more modest budgets. But as you may have read on our site, the gear we sell has to pass the "Bob and Mark Test" - meaning, if we wouldn't use it ourselves, we won't sell it. It takes an amp with particular character and the right technical specifications to reproduce the acoustic sound of an upright bass.
With this amplifier from Traynor, we believe we've found a great new option for those buyers. This offering, from Traynor's new "Small Block Series" is a big step up from the (now discontinued) TB100 combo we used to get from Traynor. It's much lighter and more compact, just as powerful, and features more extensive EQ controls and better i/o options. And yet it's still very affordable!
Speaking of which, how is this little amp so LOUD? It's only rated at 100w, but with my carved bass with the Realist Soundclip on it, plugged directly in with no preamp (the input impedance is reported to be around 1 MegOhm, which should be good for most piezo pickups), the amp had full, deep sound. It's only a 14-inch cube, but turning it up, we could shake the walls pretty good in our little showroom. And that was with the EQ set "flat." Tweaking the 4-band EQ -- and not even touching the "Low Expander" control, which is probably better-suited for electric bass -- provided even more sonic options. Nice!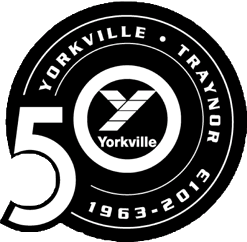 It's constructed in Canada with real plywood, not fragile particle board or heavy MDF. It uses a genuine brand-name Eminence driver. Its styling is clean and unassuming, not flashy, but classy. All this, and a solid 2-year warranty.

Not surprisingly, it also sounded great with electric bass; my 5-string had full-bodied tone all the way up and down the neck, and the extensive EQ controls made it easy to instantly dial in a contemporary electric bass tone. So this amp can do double-duty - it works equally well with electric or acoustic bass.


Controls
Status LEDs - Power (red for warmup, blue for "ready") and Clip
0dB/Passive and -6dB/Active Inputs ¼-inch phone jacks
Gain (Volume) Control - One knob for volume control
Tone Controls – 4-band EQ includes Bass, Low-Mid, Hi-Mid and Treble
Low Expander Control - This is a Bass Boost/Mid "Scoop" control, which is best used by electric bass. But feel free to experiment, perhaps you'll like it!
Aux Input – ¼-inch phone jack - Line Level
Phones Jack – ¼-inch Stereo/Mono Headphone Jack
Line Out – XLR jack for DI-style connection to a mixing board
Tweeter Defeat/Active Switch - reduce high-frequency "clack" by turning off the tweeter!
Pros and Cons:
In spite of its 100 watt rating and compact size, we find the amp can get quite loud without distortion.
A four-band EQ is incredibly useful for upright bass; and unusual on an amp in this price range.
Volume and headroom are very good for this price range, but it's not quite a fair comparison to match it up with the much higher-powered combos from Acoustic Image, or the 550w Micro/Doubler from Euphonic Audio.
It's very lightweight and portable, especially compared with the TB100 amp it replaces in our product line.
It's got one channel only (though with the AUX 1/4" jack input you can add additional sources) and it has no microphone input.
The Balanced DI output provides connection to "the house" (XLR, post-EQ)
It can power its internal speaker only; there is no external speaker jack.
Its 10" driver sounds quite full range - and isn't overly boxy. Tonally, is it up to the level of an Acoustic Image or EA rig? Not quite -- but for less than half the price, it's certainly a great alternative!


Features
Lightweight, Compact and Durable Cabinet Design
Made of Real Plywood
Built in Canada
4-band EQ (Bass/Lo Mid/Hi Mid/Treble, ±15dB)
Low Expander Control: boosts lows and cuts mids; not particularly useful for URB
Active and Passive Instrument Level Inputs
XLR Balanced (Post-EQ) Output
1/4" Auxiliary Line Input
¼ inch Headphone Output


Specifications
Power: 100 watts
Burst Power - 2 cycle: 125 watts
Speaker: 10 inch woofer w/separate Tweeter
Frequency Response (Hz +/-3dB): 50 - 15k
Inputs: two ¼ inch (passive, active); 1/4" auxilliary jack
Controls: one each Volume/Gain, Bass, Low Mid, High Mid, Treble, Expander
Line Out: XLR Balanced Post-EQ
LED Indicators: Power, Clip
Headphone Jack: ¼ inch
Speaker Jack: None, the unit is designed to drive the internal speaker only.
Dimensions 14 x 14 x 14 inches / 35.5 x 35.5 x 35.53 cm
Weight: 21 lbs. / 9.5 kg.


TIPS
For best sound with the upright bass, turn the "Low Expander" control OFF. As in, all the way to the left (not at the midpoint.) This control "shapes the tone of the bass by extending the low frequency and reducing the mid frequencies (around 400 Hz)." That creates an unnatural "scooped" sound with exaggerated bass response - and while that can sound cool for electric bass guitar, it detracts from the neutral tone character that better serves the sound of an upright.
Tilt the amp upward to hear yourself better.
Is the sound of the highs too harsh? Too much finger noise? Turn off the tweeter, that will "round off" the top end and provide a bit more natural tone for upright.
Note to International Customers:

The Traynor SB110 is designed and configured for use in the USA and Canada (110-120v mains power). It does NOT have the capability to switch to 230-240v operation.

7 Day Trial Period on Amplifiers and Speaker Cabinets

We know that it's tough to buy new gear over the Internet. So purchasers have a seven (7) day trial period during which they may return the amp in new condition -- NO QUESTIONS ASKED! -- for a full refund, minus all shipping costs and a small transaction fee to cover credit card processing. Call or email us first: returns must be preauthorized; a restocking fee applies if the unit is not returned in new condition.
7-Day Trial Period
Your purchase of this item is covered by the exclusive Gollihur Music 7-day Trial Period, under the following terms:
You may contact us to return this item, for any reason (or no reason), within the first seven days of ownership. The timer starts on the day that you receive the item, not the order date.
Returns are subject to deductions as follows:
Any shipping costs you paid are not refunded, and if the item shipped free, the costs we incurred to ship the item to you will be deducted from your refund or credit.
All shipping costs you incur to return the item are your responsibility.
A small fee is deducted from your refund to cover credit card/PayPal fees which are not refunded to us even if we refund your charge. Note that if you choose to accept a store credit instead of a refund, this deduction does not apply.
Items must be returned in 100% "as new" condition, with all original packaging, shipping materials, and accessories/manuals/bonus items. Deductions are assessed for missing or damaged items.
IMPORTANT: You must contact us for authorization BEFORE shipping the item back.
Product Manual
Need to figure out some of the more in-depth features of this product? Here's a copy of the manual, in PDF format, here.
You may wish to visit the manufacturer's website to see if a more recent version is available.
View All
Close
Warranty Information
Two and Ten Year Unlimited Warranty:
Traynor's two and ten-year unlimited warranty on this product is transferable and does not require registration with Traynor Amplifiers or your dealer. If this product should fail for any reason within two years of the original purchase date (ten years for the wooden enclosure), simply return it to your Traynor dealer with original proof of purchase and it will be repaired free of charge.

Freight charges, consequential damages, weather damage, damage as a result of improper installation, damages due to exposure to extreme humidity, accident or natural disaster are excluded under the terms of this warranty. Warranty does not cover consumables such as vacuum tubes. See your Traynor dealer for more details.

This warranty is valid only in Canada or the United States of America. For more information on enforcing your warranty coverage outside Canada & the United States of America please contact Traynor Amplifiers - World Headquarters.
View All
Close
5 Reviews
Now I know what the ongoing discussion of the relative merits of amplifiers is about. I got the Acoustic Image Ten2 years ago, and it began to dawn on me why I was unhappy. It's a heavy and heavy-sounding amp. I was attracted to the SB110's light weight [less than half the weight of the Ten2] and my desire to experiment with a punchier amp. The SB110 fits the bill right out of the box. Solid, clean, and natural-sounding. Thanks, guys!

I started with Acoustic image, loved the early ones but found the newer ones were middle heavy. Went to Phil Jones, which are also great but a bit "dry" sounding to me. The Traynor 110 is my favorite of all, and cheaper. Took it to a rehearsal with a jazz group I play with a lot and they said, is that new (based on hearing it, not seeing it) they , and I , love the natural sound. very light as well. I've been a professional upright player for decades. Highly recommended.

Great tone and best sounding single 10" amp I've heard.

I find myself going to this amp more and more...

Just letting you know I love the Traynor 10. For my bass it's better than the 12. I have owned a couple A******* I**** amps and also have been using a P*** J**** F*********. I used it last night for a concert. The sound is very clean and warm and it is actually a bit lighter then the P*** J****. I also use a Headway preamp with a full circle pickup.

I received the Traynor SB110 amp yesterday and checked it out immediately, with my acoustic 3/4 upright and my (passive) Fender P bass, following the recommendations on your website. This amp is awesome! Light-weight, well- made, small but super powerful (walls shaking at half- volume), great & versatile sound with both (very different) basses, and some nice features too (XLR line out, active & passive inputs, 4-band EQ, tweeter on/off button, great price). Thanks for selecting this amp to include on your site and for your informative description, review, and setting recommendations.
View All
Close