Bass Standards - Note-for-Note Transcriptions of Classic Jazz Performances (Book)
SKU:

UPC:

FREE SHIPPING:

To all 50 US States
Frequently bought together:
Description
Bass Standards
Note-for-Note Transcriptions of Jazz Bass Classic Performances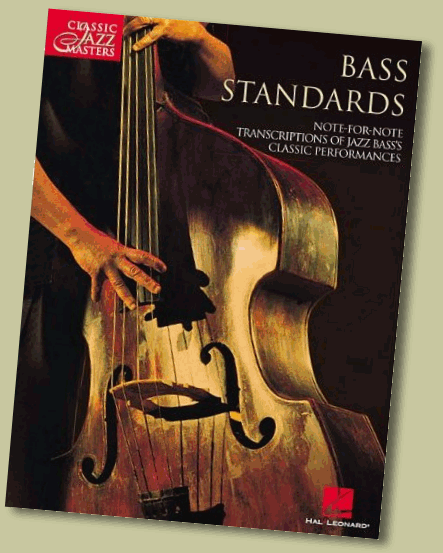 What more can you say? Accurate, note-for-note transcriptions of 17 of the finest improvised jazz bass performances ever recorded - from a veritable "who's who" of jazz upright bassists. One of your favorite players is bound to be in this collection; everyone from Ray Brown to Reggie Workman -- and most every prolific bassist in between -- has a cut in this cleanly notated book.

Includes a foreward by the editors, as well as a discography detailing the specific sources of the transcriptions so that you can pursue further study with the source material.

112 pages.

Song List:
Blues Minor - Reggie Workman
Body And Soul - Jimmy Blanton
But Beautiful - Eddie Gomez
Falling In Love With Love - Gary Peacock
Footprints - Richard Davis
Have You Met Miss Jones? - Niels-Henning Orsted Pederson
How Deep Is The Ocean (How High Is The Sky) - Oscar Pettiford
I'll Remember April - Red Mitchell
Moose The Mooche - Charlie Haden
My Romance - Scott LaFaro
Night Train - Ray Brown
Old Devil Moon - Charles Mingus
Ring Dem Bells - Milt Hinton
So What - Paul Chambers
Take The 'A' Train - Rufus Reid
Well You Needn't (It's Over Now) - Ron Carter
Without A Song - Bob Cranshaw
Christopher's Take:


When this book came in, all I could say was: "cool." Note-for-note transcriptions of some of the most notable bassists around. Ever want to see exactly what Paul Chambers played each chorus on "So What?" It's in there. NHOP on "Have You Met Miss Jones?" Got it! (Not that I'm touching that one with a ten foot pole.)

This book even includes chord changes, so you can analyze each and every note your favorite player plucked. Milt Hinton, Gary Peacock, Jimmy Blanton... the list goes on. In one word, this book is just plain... "cool."
View All
Close