DB-1 Wood-Encased Upright Bass Pickup for Bridge Wing
SKU:

UPC:

FREE SHIPPING:

To all 50 US States
Frequently bought together:
Description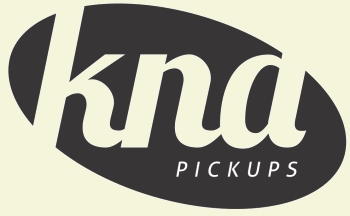 Like many other upright bass pickups, the DB-1 is a compact unit designed to be wedged into the wing in the side of your bridge. Most of those pickups require that you custom-fit the pickup into the slot, using sanding/filing to open up that slot for optimal fitment. There's nothing inherently wrong with that approach; there's no effect on the bass tone or volume, etc. There are also pickups that are made of a material that allows you to instead shape the pickup to fit, which is also a good alternative.


But if you're really concerned about making destructive changes of any kind, this new (May 2016) pickup option from KNA is going to make you smile.

The vibration-sensing transducer is encased in a tonewood housing that is very thin (.085 in thick) -- and the pickup includes several tonewood shims which you can use to provide just the right level of pressure on the element. This flexible mounting option allows you to experiment with various levels of pressure and placement - non-destructively - as well as switch the pickup between several basses as often as you wish.

Now, granted - bridges are not uniform, and some may require slight alterations to accommodate any pickup properly. Flat, even contact is key to get the best sound, and if your bridge wing is particularly "curvy" you may still wish to provide a flatter surface. I use a file or piece of sandpaper wrapped around a slim slice of wood to fit pickups to the wing. But on most bridges, this very well may not be necessary.

The DB-1 is crafted in the European Union by KNA, and the pickup was created with the help of my own input and insight; I tested several prototypes for them and made lots of suggestions while it was being developed. You'll find that it even includes a jack mount arrangement almost identical to the way we mount the jacks for Ehrlund and David Gage pickups we sell.



The manufacturer suggests mounting in the "G" string side of the bridge, but I certainly encourage you to try in both sides to see what you prefer; every bass is different! This pickup is often compared to the Revolution Solo (RS1 and RS2) as well as Underwood. KNA is aka Kremona, who made our Bulgarian carved bass.
7-Day Trial Period
Your purchase of this item is covered by the exclusive Gollihur Music 7-day Trial Period, under the following terms:
You may contact us to return this item, for any reason (or no reason), within the first seven days of ownership. The timer starts on the day that you receive the item, not the order date.
Returns are subject to deductions as follows:
Any shipping costs you paid are not refunded, and if the item shipped free, the costs we incurred to ship the item to you will be deducted from your refund or credit.
All shipping costs you incur to return the item are your responsibility.
A small fee is deducted from your refund to cover credit card/PayPal fees which are not refunded to us even if we refund your charge. Note that if you choose to accept a store credit instead of a refund, this deduction does not apply.
Items must be returned in 100% "as new" condition, with all original packaging, shipping materials, and accessories/manuals/bonus items. Deductions are assessed for missing or damaged items.
IMPORTANT: You must contact us for authorization BEFORE shipping the item back.
View All
Close
11 Reviews
Hey, Just wanted to thank you for the pickup that I purchased earlier this year. The Kremona is my favorite pickup that I have had for my upright bass. I previously had other pickups from other manufacturers. One sounded good, but was more complicated to work with. The other one's tone was super thin and not easy to get a good sound. I just plug the Kremona to my bass amp and the sound just works. So easy, hardly find myself tweaking during the gig, which is rare for me. Thanks for working with them to develop an excellent and affordable product. Has to the be the best musical purchase that I have made in the past few years. Thanks!!!!

Easy install, sounds amazing

This is only an initial review, but because I'll be playing overseas on an upcoming tour/clinic trip and will be offered basses with no pickups, I ordered one of (The Kremona DB-1 Pickups) from Mark at Gollihur. I put it on and the results are very promising! On my main bass it sounds really good and compares much better to the Full Circle than I ever imagined. It is clean and clear across all 4 strings, pretty feedback resistant (not quite as much as the FC that I can tell, but still very good), and gets a good natural sound once some high mids are rolled back (the FC requires less EQ to get that nice dark-yet-still-articulate tone, and is still a bit punchier on the E string). I have to say I am very impressed with the ease of installation! The pickup is encased in wood and includes 4 wooden shims. Installing it was a breeze because there's no sanding or filing required: just add shims until it fits... Brilliant! The shims are also made of wood, so they grip well against the pickup surface and the bridge. The tailpiece mount is also a nice design, easy to install quickly without any tools; the main shaft screw of the mount is thoughtfully notched so that finger tightening is easy, and the included washers make a nice snug fit. More details after the trip when I've had a chance to put it through its paces... but a cursory experience with the pickup in my music room with my very nice and very familiar bass told me enough to write (this). For now, though, this looks like the perfect backup to keep in the bag.... or even on the bass, since it's so low profile and discreet.
View All
Close