DB-1 Wood-Encased Upright Bass Pickup for Bridge Wing
SKU:

UPC:

FREE SHIPPING:

To all 50 US States
Frequently bought together:
Description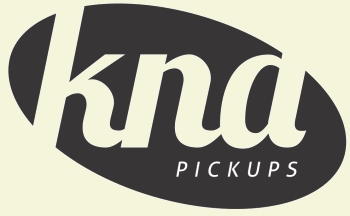 Like many other upright bass pickups, the DB-1 is a compact unit designed to be wedged into the wing in the side of your bridge. Most of those pickups require that you custom-fit the pickup into the slot, using sanding/filing to open up that slot for optimal fitment. There's nothing inherently wrong with that approach; there's no effect on the bass tone or volume, etc. There are also pickups that are made of a material that allows you to instead shape the pickup to fit, which is also a good alternative.

But if you're really concerned about making destructive changes of any kind, this new (May 2016) pickup option from KNA is going to make you smile.

The vibration-sensing transducer is encased in a tonewood housing that is very thin (.085 in thick) -- and the pickup includes several tonewood shims which you can use to provide just the right level of pressure on the element. This flexible mounting option allows you to experiment with various levels of pressure and placement - non-destructively - as well as switch the pickup between several basses as often as you wish.

Now, granted - bridges are not uniform, and some may require slight alterations to accommodate any pickup properly. Flat, even contact is key to get the best sound, and if your bridge wing is particularly "curvy" you may still wish to provide a flatter surface. I use a file or piece of sandpaper wrapped around a slim slice of wood to fit pickups to the wing. But on most bridges, this very well may not be necessary.


The DB-1 is crafted in the European Union by KNA, and the pickup was created with the help of my own input and insight; I tested several prototypes for them and made lots of suggestions while it was being developed. You'll find that it even includes a jack mount arrangement almost identical to the way we mount the jacks for Ehrlund and David Gage pickups we sell.



The manufacturer suggests mounting in the "G" string side of the bridge, but I certainly encourage you to try in both sides to see what you prefer; every bass is different! This pickup is often compared to the Revolution Solo (RS1 and RS2) as well as Underwood. KNA is aka Kremona, who made our Bulgarian carved bass.
7-Day Trial Period
Your purchase of this item is covered by the exclusive Gollihur Music 7-day Trial Period, under the following terms:
You may contact us to return this item, for any reason (or no reason), within the first seven days of ownership. The timer starts on the day that you receive the item, not the order date.
Returns are subject to deductions as follows:
Any shipping costs you paid are not refunded, and if the item shipped free, the costs we incurred to ship the item to you will be deducted from your refund or credit.
All shipping costs you incur to return the item are your responsibility.
A small fee is deducted from your refund to cover credit card/PayPal fees which are not refunded to us even if we refund your charge. Note that if you choose to accept a store credit instead of a refund, this deduction does not apply.
Items must be returned in 100% "as new" condition, with all original packaging, shipping materials, and accessories/manuals/bonus items. Deductions are assessed for missing or damaged items.
IMPORTANT: You must contact us for authorization BEFORE shipping the item back.
View All
Close
14 Reviews
My wife gave this pickup to me for Christmas on the recommendation of Mark and what a great gift it has been! Plenty of output, so I don't have to run through an external preamp and it offers a very true-to-my-bass sound. I would highly recommend this pickup!

Great pickup for Kay Bass

Got this last week based on Mark's recommendation. As usual, he was spot on. Incredibly easy to set up and my 1950s Kay Bass sounds great using my Fender Rumble 40. Played a weekly gig today and got many compliments on how it sounded just like my bass, but a bit louder. Thanks Mark!

I agree with other positive review comments. These have worked great straight out of the box and running directly into a Hartke Kickback 12 bass amp. There were some comments regarding the product and possible need for a preamp of some sort to improve sound. Possibly that would improve sound (sound always being subjective of course) but it has not been necessary in my experience. I have installed this item on 2 Kay Double Basses and a solid top/laminated sides and back Samuel Shen Double Bass. Works well on all 3. Very happy with the results.

This is a very natural sounding pickup, one of the more natural and woody sounding piezos I have tried. Not too trebly or harsh but not tubby or muddy either. It is not as compressed or "rubbery" sounding as my Underwood pickup. It's also by far the easiest pickup to install I've seen yet. Feedback response seems comparable to most other pickups I have used. Very impressed with the tone and quality for the price.

great sounding pickup, DIY install

This pickup sounds excellent and can be installed and removed by any bassist. You can use this same pickup on multiple basses , or keep it in the bag if the installed pickup on a rental bass is not working well. It works great on an EUB like the Eminence too. It's a fraction of the price of the other competing pickups and is a better performer in many ways.

I only have one other pickup to compare this to, another piezo but what I like about it: the sound is really good, and it is easy as heck to install. I have found that in comparison with using a condenser mic on a stand, the sound isn't quite as airy? What I am doing for recording is combining both this and the condenser, and that is a very good sound indeed.

Just wanted to report on 100% satisfactory results with the installation of the KNA DB-1 on my Juzek today. As described by you, mounting the pickup and jack was a 1,2,3 stress-less process for the uninitiated. Simple utilization of the shims worked as advertised. The A/B immediate difference in tone as compared with the (still installed) old-school F****** B*-*** is strikingly positive. Whether played directly through my new Acoustic Image amp or with my Fishman Platinum Pro EQ in the line, it produces the increased 'voice' of the instrument I'd been lacking. MUCH fuller E string response (KNA mounted on the G string side as suggested) which had previously been lacking. Needless to say I am chuffed with the results of my investment. Thank you very much for your development involvement and advisement recommending this pickup.

Got the KNA DB-1 pick today. Tore into the package and tried it out! I LOVE IT! In the following ways... I have a couple of double basses... I have what I call my good orchestra bass (Shen). The KNA sounds great! All of the scratchiness is gone in the arco AND the Pizz sounds great as well. As I mentioned in my current gig I am playing in a pit orchestra for a musical where the book switches back and forth between electric and acoustic....I am running them both through the same amp. I was having to adjust the eq with every switch back and forth... as no matter how dark I was setting to compensate for the bad sound on the acoustic....it was then too dark for the electric.. Anyway..... now I can leave the amp set.... and just adjust the controls on the electric...... much easier AND..... I keep an old beater upright... (Hamburg student model) that I use for some blue grass and acoustic band gigs often in some... shady places where the beer gets spilled the the basses get kicked....mostly by my band mates. I threw the KNA on that bass and it sounds WAY BETTER THAN IT SHOULD! Wow! So anyway....there are few times in my life where I seek an answer and get such a good result. Thank you so much for answering my email and recommending this pick up. You have a customer for life...

Thank you for this product

KNA DB-1 pickup I purchased is great! Greetings. I don't post on social media of any sort but want to thank you for this product. I'm an old bass guitarist who's been playing upright with a start-up community swing band, using an old beater-bass which has long lived, unused, in the back of the band room. It's been a challenge to my hands to get heard through the mix. It took me all of 5 minutes to easily install this pickup and get wonderful results. And no pre-amp needed, using old Peavey amp in the band room. It sounds great, easily eq'd with fundamental amp tone controls. THANK YOU very much!
View All
Close