Product Overview
DB-1
Double Bass Pickup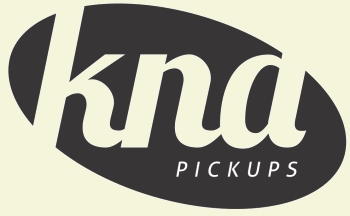 Like many other upright bass pickups, the DB-1 is a compact unit designed to be wedged into the wing in the side of your bridge. Most of those pickups require that you custom-fit the pickup into the slot, using sanding/filing to open up that slot for optimal fitment. There's nothing inherently wrong with that approach; there's no effect on the bass tone or volume, etc. There are also pickups that are made of a material that allows you to instead shape the pickup to fit, which is also a good alternative.

But if you're really concerned about making destructive changes of any kind, this new (May 2016) pickup option from KNA is going to make you smile.

The vibration-sensing transducer is encased in a tonewood housing that is very thin (.085 in thick) -- and the pickup includes several tonewood shims which you can use to provide just the right level of pressure on the element. This flexible mounting option allows you to experiment with various levels of pressure and placement - non-destructively - as well as switch the pickup between several basses as often as you wish.

Now, granted - bridges are not uniform, and some may require slight alterations to accommodate any pickup properly. Flat, even contact is key to get the best sound, and if your bridge wing is particularly "curvy" you may still wish to provide a flatter surface. I use a file or piece of sandpaper wrapped around a slim slice of wood to fit pickups to the wing. But on most bridges, this very well may not be necessary.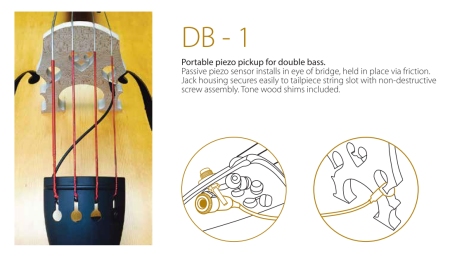 The DB-1 is crafted in the European Union by KNA, and the pickup was created with the help of my own input and insight; I tested several prototypes for them and made lots of suggestions while it was being developed. You'll find that it even includes a jack mount arrangement almost identical to the way we mount the jacks for Ehrlund and David Gage pickups we sell.



The manufacturer suggests mounting in the "G" string side of the bridge, but I certainly encourage you to try in both sides to see what you prefer; every bass is different! This pickup is often compared to the Revolution Solo (RS1 and RS2) as well as Underwood. KNA is aka Kremona, who made our Bulgarian carved bass.


Reviews