Double 4 Micro Combo Amplifier
SKU:

UPC:

MPN:

FREE SHIPPING:

To the Continental USA
Description
We were among the very first dealers to bring Phil Jones amps to the US market, and we've brought them back on board!
My take on this diminuitive little combo is that it's an ideal amp for practice, small groups in a coffeehouse-style setting, or as an amp for bringing an electric upright bass up to the full acoustic volume of a typical upright. It's not going to shake the walls at this size and wattage, but that's not its intent. It will also work well to "augment" the acoustic volume of an upright - so if you just need a bit of support in an acoustic group, this could be a very good option. It could also serve well as a personal monitor for yourself on stage.
Excellent sound, surprisingly deep bass response, and plenty of EQ control to get the tone you're after. Also an excellent bedroom practice amp for EUB or bass guitar/bass uke/etc.
Here's the information as provided by PJB.
The DOUBLE FOUR is the pinnacle of micro bass amps. With new driver design, acoustic loading and the latest digital amplifier technology, this tiny bass combo may be designed as a practice amp but continues to amaze everyone with the great PJB signature bass tone. From a cabinet with the size of a jewel box, this seems to defy the laws of physics.
Driver and Amplifier Technologies

Driver and Amplifier Technologies Pushing our expertise of using smaller drivers to get the ultimate bass sound, we applied our vast experience to an even smaller, "Neo Power"4 inch driver built with precision of a Swiss watch. This 4" baby is able to cope with the extreme signals coming in from an amplified bass guitar. By using our extensive R&D facility which includes the largest anechoic chamber in the bass guitar amplifier industry, and the KLIPPEL transducer measurement system, we were able to develop the perfect 4 inch transducer for our purpose. We analyzed the neodymium magnetic system, the cone behaviors at all frequencies in 3D representation, cone suspension and frame, until we achieved our goal. We then looked at the acoustic loading using the acoustic simulation software and calculated exactly the full power cone displacement at every frequency.

Each one of these 4" speaker is fed with its own Pulse Width Modulation PWM amplifier. PWM amplifiers are extremely efficient compared to the traditional analog solid state amplifiers, converting electrical energy to power using on the speakers instead of wasting it on hot. Since the amp is running at lower working temperature, the DOUBLE FOUR will give years of service long after other amps have faded away. By using dual amplifiers one for each speaker, the bass control is greatly improved since the damping factor ( the amplifier's ability to put on the "brakes" to stop the speaker cone from overshoot ) is doubled. The end result? A bass tone that is well controlled, punchy, tight and never muddy or bloomy.
Enclosure Technology

To maximize its tiny cabinet enclosure, we designed a custom Rectangular Auxiliary Low Frequency Radiator (RALFR®). RALFR® is a pneumatically coupled radiator loaded to the rear of the two 4 inch speakers that operates at the lowest bass frequencies only. It augments the output of the loudspeakers at frequencies from 30 to 150 Hz. It also reduces the cone excursion of the speakers, so power handling is greatly improved. The cabinet is also heavily braced internally and lined with acoustic damping materials. This damping prevents cabinet coloration that can interfere with the true sound of your instrument. Now, what you hear from the DOUBLE FOUR is the most realistic amplification of your instrument.
| | |
| --- | --- |
| Model | Double Four / BG-75 |
| Power Output | 70 Watt (RMS) |
| Speaker | 2 x PJB NeoPower, 4 inch speakers. Rectangular Auxiliary Low Frequency Radiator (RALFR®) Switch able high gain input OR low gain stage with mute function |
| EQ | 3-Band EQ (Treble, Mid, Bass) |
| Input | AUX-Input Jack, DC-Power Input Socket |
| Output | Line-Out, Headphone-Out |
| Other | Power Switch |
| Power | 100/240V AC |
| Dimension (W x D x H) | 11 x 8 x 6.8 inch / 280 x 203 x 172 mm |
| Weight | 8.8 lbs / 4 Kg |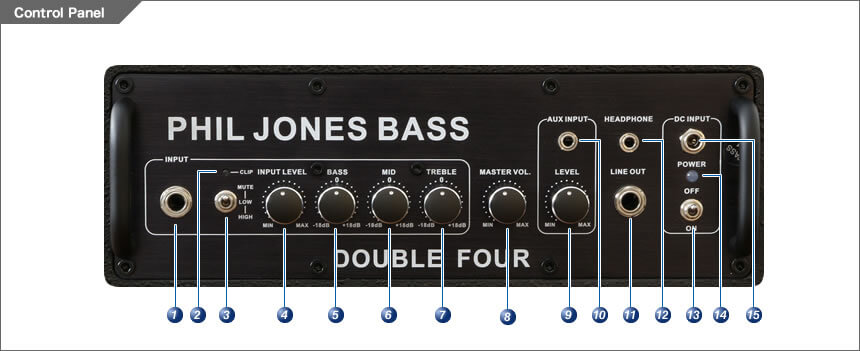 (1) Input Jack (2) Clip Indicator (3) Mute/ Passive/ Active Switch (4) Input Level (5) Bass-EQ (6) Mid-EQ (7) Treble-EQ (8) Master Vol. Control (9) AUX Level Control (10) Input AUX Jack (11) Line-Out Jack (12) Head-Phone Jack (13) Power On/Off Switch (14) Power LED (15) DC Power Input
Product Manual
Need to figure out some of the more in-depth features of this product? Here's a copy of the manual, in PDF format, here.
You may wish to visit the manufacturer's website to see if a more recent version is available.
View All
Close
Warranty Information
Warranty Information
PJB amplifiers carry a 2 years limited warranty on parts and labor.
Products must be purchased from an authorized PJB dealer.
Buyer must complete and return the enclosed warranty card within 15 days of purchase, or register online.
This warranty covers defect in materials or workmanship that occurs in normal use. Within warranty period PJB or its local distributor will repair or replace the defect unit free of labor and parts charge. It is the buyer's responsibility to use the unit strictly according to instructions written in the owner's manual.
This warranty is not transferable; it is provided to original owner only.
Damage/defects caused by the following conditions are not covered by this warranty:
Improper handling, neglect or failure to operate the unit in compliance with the instructions given in user manual;
Connection or operation in any way that does not comply with the technical or safely regulations applicable in the country where the product is used;
Repairs or modifications by anyone other than authorized PJB service agent;
Speakers are not covered for damages caused by incorrect connection, or when powered beyond the limit described in the user manual.
Manufacturing defects are typically detected during early usage.

IMPORTANT:
In all warranty issues your first line of communication should be to the retailer you purchased from, even if you have purchased product from an online source.

When a local distributor is available, customer who prefers to purchase across country online may be required to pay shipping charges to retailer in order to obtain service.

Warranty term/condition might be different depending on the country you are in. Please contact your local distributor for details.

Further questions, please contact PJB by email info@philjonespuresound.com, or call (855) 227-7510.
View All
Close