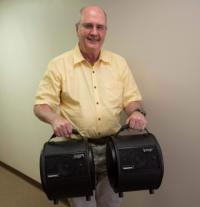 The Upright Bass world has lost another one of the good ones. We are deeply saddened to report that Dr. Richard (Rick) Jones, the founder of Acoustic Image, passed away suddenly on April 17.
Our own Bob Gollihur first connected with Rick over 20 years ago. After much cajoling, he finally twisted Rick's arm enough to get him to sign up Gollihur Music (at that time, Wordsmith Associates Music) as a dealer for the amazing Acoustic Image lineup. Rick later admitted that he almost didn't relent, but that giving in and bringing us on board was one of his all-time greatest decisions - Gollihur Music quickly became the most vocal champion of the AI "sound," and was his top dealer for over 2 decades.
But, more than a business associate, Rick was a friend - to Bob, and later, to Mark. We had many conversations about design, the spirit of the amps' unique designs, updates, new product ideas, marketing, philosophy... But we also talked about shared passions, like admiring fancy sports cars and making music. Gollihur Music was always ready to test prototypes, liquidate B-stock or old-stock amps, and so on - and Rick was always ready to send customers our way for guidance, purchase options, or general assistance. We had excellent synergy - both on a professional level AND a human one.
I'm gutted by this sudden loss, as are (I imagine) the many hundreds of customers whose TOTAL satisfaction Rick endeavored to always ensure, whatever it took. I'm remembering Rick fondly, and thinking positive thoughts for his family, and the whole Acoustic Image clan.
As of right now, Rick's family and co-workers have yet to officially announce what the plans for Acoustic Image will be, moving forward. It was, largely, Rick's venture, and he held most of the strings that kept things moving. I ask that you respect the family's wishes to figure it all out privately, and give them the time and space to work out whatever the path forward may be.
RICK JONES 1947-2023
Recent Posts
Every once in a while, we like to share little random tips we've come up with over the years. Some c …

The Upright Bass world has lost another one of the good ones. We are deeply saddened to rep …

[updated - this position has been filled!]"Day Job" Available for Qualified Upright Bass PlayerUS:Yo …