Description
We have here the most common 3/4 size, as well as versions for 1/4, 1/2, 7/8 and 4/4 size basses. These fine quality "fixed" bridges are made of a high grade of instrument-quality maple, which can be observed in the photo above. Ready to be cut, shaped and fitted to your instrument.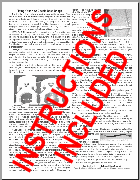 Instructions are included:
I will be glad to include our personal notes with tips on installing a double bass bridge! I am also glad to chat with you via email or on the phone if you have any questions. Installing a bridge isn't brain surgery, but does require careful planning and execution. Do you already have an adjustable or regular bridge that needs to be installed, or do you want to get an idea of the process?? Let me know and I'll send you the instructions via email, no obligation.


Bridge Measurements (approx.) from bridge feet center to center:
| | |
| --- | --- |
| 3/4 size: | 4 inches |
| 1/4 size: | 3 3/4 inches |
| 1/2 size: | 3 7/8 inches |
| 7/8-4/4 size: | 4 3/4 inches |

This Bridge is TOO BIG???
That's to be expected! Double basses have different neck angles, which results in the need for different sized bridges -- you can't buy a bridge "off the shelf" to immediately fit your bass. All bridges require fitting. I include instructions to advise you how to trim the top and feet of the bridge to fit your instrument.

How can I be sure I have the right size bridge?
If you look or feel inside through the E string f-hole, you will find the Bass Bar; it runs parallel to and below the E string. If you measure from the middle of the bar to the mid-point of the bass and double the measurement, you now know the proper measurement of the bridge's feet when measured from center to center. Choose a replacement bridge in that range (most basses are 3/4 size, approximately four inches from the center point of each foot ) with a height larger than your current bridge.
View All
Close
2 Reviews
Good Bridge Blank & Fast Delivery

Quarter-sawn Teller Bridge. Grain density is similar to what is shown on website image. You won't be disappointed.

A great Josef Teller bridge. High quality. Sam and Mark were very helpful in selecting the correct size for my German bass.
View All
Close