Special Order: Bridges for Double Bass (Multiple Sizes and Designs)
SKU:

UPC:

MPN:

Availability:

Special Order Item: normally ships within 3-6 days

FREE SHIPPING:

To all 50 US States

Special Order Item:

Not returnable
Description
Sometimes you want something a little outside the norm; bridges come in a variety of shapes, designs, and sizes - and although our "standard" bridges are quite well made and popular, if you're looking for something in particular, perhaps we have it here.
These bridges are SPECIAL ORDER items. This means that they usually will take a few days to acquire from our distributor(s) and are not returnable.
These fine quality bridges are made of a high grade of maple, which can be observed in the photo above. Ready to be cut, shaped and fitted to your instrument.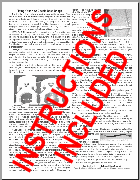 Instructions are included:
I will be glad to include our personal notes with tips on installing a double bass bridge! I am also glad to chat with you via email or on the phone if you have any questions. Installing a bridge isn't brain surgery, but does require careful planning and execution. Do you already have an adjustable or regular bridge that needs to be installed, or do you want to get an idea of the process?? Let me know and I'll send you the instructions via email, no obligation.
Do you NEED a high-end bridge like this?
"Need" is a very subjective term, here. If you have a relatively basic student-model laminated (or even hybrid) bass, the answer is: Probably not. A very high-end bridge may only impart a noticeable difference on a bass that is particularly full-timbred to begin with; the subtleties of improvement to tone may not be very discernable on a bass that just doesn't have those tonal complexities. That said, I ain't stopping you if you want to make every possible improvement to your instrument - that's not a bad instinct to be following! But please consider that these higher-cost bridges are for those who are confident in what they're doing. If you're a first-timer, consider our more affordable (but still very good quality) fixed and adjustable bass bridges, also found on our site.


Model Specifics
Despiau bridges are made in France by a family business where passion for music and love of wood are combined with know-how and understanding. Sought-after and respected by stringed instrument makers the world over, Despiau bridges are shipped out from the south-west of France to all four corners of the earth.
Despiau A-Grade, CT1 French Precision Model, Medium Heart
French precision model, for quite high-angled fingerboard, providing more potential for carving. Slight angle is profiled into the legs.
Despiau CT6, A-Grade, French Model, Medium Heart
French Style bridge, slightly wider spread. Slight angle is profiled into the legs.
Despiau A-Grade CT7 Belgian-Style Bridge, Medium Heart
Belgian precision model, with taller legs for very high-angled fingerboard, providing more potential for carving.
Aubert bridges have been made in Mirecourt, France since 1864. As a family company the traditions and know-how of bridge making have been transferred from generation to generation. Created in the XIXth century by Emile Aubert, the brands Aubert, De Luxe have been registered all over the world. As wood experts, Aubert selects the best quality maple wood and strictly respect each step of several year natural seasoning. Bridges are treated with natural products, according to the secret recipe passed from generation to generation. This treatment protects the wood, facilitates the seasoning and enhances the acoustic qualities.
Aubert Double Bass Bridge, #21 "Luxe", Medium Heart
French style bridge, very high grade wood.
Aubert Double Bass Bridge, #22L "Deluxe", Medium Heart
French style bridge with wider top dimensions to accommodate wider spacing or possibly a 5-string instrument.
Aubert Self-Adjusting Feet, Medium Heart
The "self-adjusting" feet on this bridge are precision-fitted to allow them to "swivel" and make fitment easier. Some fitment on the bottoms of the feet (and likely, the top of the bridge) will still be required, despite this bridge looking "ready to install," you should realize that there is no such thing as a "ready-fit bridge." Every bass has unique curves and surfaces (as well as string height/neck overstand dimensions) and you can't expect to take a bridge out of a box and throw it directly onto a bass without some modification.
Aubert Self-Adjusting Feet, Low Heart
Same as the bridge above, but the heart is lower in the upper portion to allow for a shorter overall height if necessary. Good for basses that have had neck resets that have shortened the overstand.
Josef Teller bridges are made in Germany, of naturally dried, fine, selected maple from the mountains of Bosnia.
The Teller family - a family of bridge makers in their now sixth generation - originally comes from the former heart of the German instrument making industry: Schönbach in the Egerland, where instruments have been made since the 16th century. Today, their workshop is located in one of the centers of German instrument making: Bubenreuth. Every single one of their bridges is completely "Made in Bubenreuth."
Teller Master IA (Best Quality), #15, Adjustable with Installed Aluminum Adjusters, Medium Heart
Really nice quality wood, pre-fitted with aluminum adjusters. French style.
View All
Close