Pre-Fitted Select Grade Fixed Bridge for Double Bass, 3/4 size
SKU:

UPC:

MPN:

FREE SHIPPING:

To all 50 US States
Description
These "deluxe" select grade "fixed" bridges are made in Germany of lovely densely-grained maple, which can be seen in the photo. Unlike the other bridges that we sell, though - the bulk of the fitment work has already been done for you.
"Wait a minute! I thought you said that a pre-fit bridge didn't exist!"
Well, that's still true. You can't just buy this bridge and slap it on your bass and expect it to be a perfect fit. You're still going to have to make a little sawdust, I'm afraid.

Every bass is a little bit different, kind of like snowflakes and fingerprints. So each bridge has to be more precisely fitted to each individual instrument, which is not something that can be done without the instrument present.

But if you're a little timid about starting with a total blank, this bridge gets a lot of the "busy work" out of the way for you:
The bridge has had some of the extra "meat" taken off the feet, so you just need to more finely contour them to fit your particular bass.
The top of the bridge has been contoured and cut down, and string slots have been cut.
The bridge has been thinned down to improve response.
You can see the difference between a standard Teller bridge (in the background) and the "fitted" version (foreground) in the photo to the right. You can also easily see the considerable figuring that is present in the higher-grade "select" fitted bridge -- while the standard bridge is quite nice, the select grade of wood is a considerable upgrade.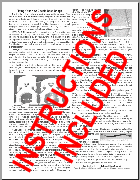 Fitment Instructions are included:
I always include Bob's personal notes with tips on installing a double bass bridge! I am also glad to chat with you via email or on the phone if you have any questions. Installing a bridge isn't brain surgery, but does require careful planning and execution. Do you already have an adjustable or regular bridge that needs to be installed, or do you want to get an idea of the process?? Let me know and I'll send you the instructions via email, no obligation.

These bridges are a slightly different design from our regular fixed bridges - most notably, the legs are a little wider. However, they are spec'd by the maker as designed for 3/4 size basses, and should fit most 3/4 sized basses that have fairly conventional dimensions.

Important: Measure! With a ruler! I can't say for certain that this bridge will be a good fit on your bass. If your bass has ever had a neck reset, broken neck, a sinking top, or some other problem with its overstand, etc. -- you might be better off with the flexibility of a standard blank, which has more room for modification.

Bridge Measurements (approx.)

Bridge feet center to center: 4 3/8 inches
Bridge Height (highest point): 6 7/8 inches
String Spacing: Approx 1 1/8", varies slightly


Reminder: All bridges (including this one) require fitting. I include instructions to advise you how to further trim the top and feet of the bridge to more exactly fit your instrument for best playability and tone.



How can I be sure I have the right size bridge?
If you look or feel inside through the E string f-hole, you will find the Bass Bar; it runs parallel to and below the E string. If you measure from the middle of the bar to the mid-point of the bass and double the measurement, you now know the proper measurement of the bridge's feet when measured from center to center. Choose a replacement bridge in that range (most basses are 3/4 size, approximately four inches from the center point of each foot ) with a height larger than your current bridge.
View All
Close