Permanent Upright Bass Strings
SKU:

UPC:

Special Order Item:

May require ordering from manufacturer

FREE SHIPPING:

To all 50 US States
Frequently bought together:
Description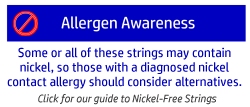 These stable, rope-core strings are particularly suited for arco and solo playing. They have a clear and well-focused sound, very quick response, with big volume and very good projection. The core material is a high-tensile rope made from carbon steel which is wound with nickel.

Since we're not as personally familiar with these strings, our descriptions of them are primarily based on manufacturer information, but we're happy to add more info as we discover it -- and feel free to
Email us your experiences with them!
View All
Close