Prelude Medium Upright Bass Strings
SKU:

UPC:

MPN:

FREE SHIPPING:

To all 50 US States

PRODUCT OPTIONS:

Multiple Sets & Single Strings Available
Description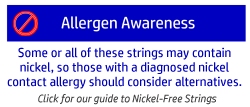 We've had lots of requests for more affordable strings for developing players; the Preludes from D'Addario are just that.

Prelude bass strings are multi-stranded steel core strings that are affordable and flexible, making them ideal for students and young players. The strings are designed to produce a warm tone quality with good bow response.


The core design is more flexible than a solid core, and the reduced tension and better flexibility makes for strings that are very easy to play, especially for younger, developing players. Excellent for student orchestra basses, the strings provide a clear, warm sound that blends well across the ensemble.
View All
Close
Warranty Information
I've experienced a problem with a string (or set of strings). What should I do?

We are sorry to hear of your experience. If you experience a problem with your strings (or string set), you may contact us (D'Addario) to see whether a manufacturing mishap is the cause. If you wish to return the string(s), visit http://www.daddario.com/ra. Please return the string or set in question in its original packaging (including corrosion intercept bag if possible). This will help us determine if a defect or other malfunction has occurred. Upon receipt and evaluation, if a manufacturing defect is revealed, we will quickly send you a replacement.

NOTE: Though it may not be the case in your situation, please keep in mind that premature string breakage is often caused by burrs or rough edges that develop at the nut or bridge/saddle. These rough edges are often difficult to see, but can be ruthless on strings. If your string continuously breaks at the nut or bridge, please check these points of contact for a nice, smooth surface. If burrs or rough edges are found, contact your local music shop or luthier to perform the necessary minor repair to resolve this common problem.
View All
Close