Special Production Carlos Henriquez Chorda Gut String Set
SKU:

UPC:

MPN:

Special Order Item:

May require ordering from manufacturer

FREE SHIPPING:

To all 50 US States
Description
IMPORTANT NOTE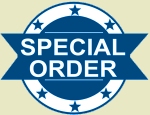 This string set is a "special order item," which means that it is normally a low-stock item. This means that, if you purchase these strings, we might need to acquire the set from the manufacturer or a distributor, which may take anywhere from a couple days (normally) to a couple of weeks (rare, but we'll let you know). It also means that we are unable to provide overnight or two-day options for these strings.
Details
Pirastro Chorda Gut Strings - Carlos Henriquez Special Edition Set:
These are lower tension strings; the special gauges have been selected based upon gut strings which were used during the 50s and 60s. Especially well-loved for jazz and Latin music, the G and D are plain gut, while the A and E are silver wrapped gut.
These strings are manufactured, wound and polished in the traditional way, by hand, and made of sheep gut. The Chorda G- and D-strings are plain sheep gut strings. The A- and E-strings are wound with silver wire. The original Chorda strings are well-known, and have a traditional, warm sound with an wide dynamic range. Carlos specifically requested that they provide a special lighter tension version of the Chorda, and this is that set.
They are particularly suited for pizzicato, with very low tension, and are very comfortable under the fingering hand.
This is a very special order set, as they must be ordered directly from Pirastro in Germany. We do normally try to stock one or two sets, but please temper your expectations for delivery on this knowledge - meaning, it could take 1-3 weeks to get your strings.
Single G and D Strings
We offer this set as a non-stock item because customers have asked for them, and they're not always easy to find at retailers. Due to their non-stock status, we only sell complete sets -- no "singles" can be purchased for this set.
However, if you're looking for the G and/or D string as a separate item,
we've made them available for purchase. Here's the deal: the word on the street is that the plain gut G and D from the
Evah Pirazzi Slap
(aka Evah Pirazzi Gold) strings are virtually (or literally) identical to the G and D that are provided in the "Carlos" set. So you can select and purchase those two strings separately, and get the same strings as you would when buying the complete set - they're just supplied in a different paper envelope.
Also be aware that as a special-order item, the Carlos string sets are not returnable.
View All
Close
1 Review
Like regular Chordas, these are excellent

I vary between these and the regular Chordas. I've tried both numerous times and each has its benefit. Both are excellently made, and these (especially the E and A) are NOTICEABLY smaller in diameter, which is a good thing. Sometimes it seems they don't have the 'boom' of the bigger strings - kind of depends on your bass etc. But fantastic strings
View All
Close