Supernil Upright Bass Strings
SKU:

UPC:

MPN:

FREE SHIPPING:

To all 50 US States

PRODUCT OPTIONS:

Multiple Sets & Single Strings Available
Description
Supernils are a bit of an oddity in the Upright Bass World... they do have a big and fat, boomy sound, which can be a bluegrasser's delight, but they have some unique characteristics - and as with anything unique, some people love them, some people don't.

Their somewhat rough "roundwound" sort of finish isn't among my favorite aspects of the strings - and it pretty much precludes bowing. And it isn't nice and smooth to fingers, for long 4-hour sets, either. Personally, I find the lower strings deliver more boom than precise definition, but that might just be your cup o'tea. Indeed, many folks like them for their less than definite pitch -- not to mention their attractively low price -- and I must confess I first liked them on my bass, so here they are!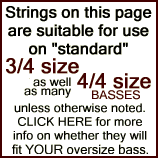 LaBella does not list gauges on their packages, but I have taken the time to gauge all the strings using a digital caliper and present the following unofficial measurements of the Supernils for your reference:
G=.090
D=.117
A=.100
E=.122
That's no typo, the D is bigger than the A string, as the A and E both have wire wrap to increase mass.
View All
Close
1 Review
I am so glad I finally got these strings they have been recommended by a lot of professional upright players that I know I am not going to name drop but I love these string they feel like feathers compared to what I was playing
View All
Close