Kaplan Orchestral SOLO TUNING Upright Bass Strings
SKU:

UPC:

MPN:

FREE SHIPPING:

To all 50 US States

PRODUCT OPTIONS:

Multiple Sets & Single Strings Available
Description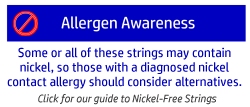 The Kaplan strings are D'Addario's premium entry into the premium orchestral strings market.

The Kaplan double bass strings are designed primarily for bowed string players. They were created to provide a rich tone, variable dynamics, and excellent bowing response. They are clear, yet warm in their tonal color - regardless of what register you're playing in.

This is accomplished by mixing various string winding materials to achieve the best playability and sound from every string. So, while all Kaplan Bass strings have a stranded steel core, the Kaplan Bass high string is titanium wound, and the middle two strings are nickel-wound. The low string is tungsten-wound.


These strings should be a favorite among the most discerning orchestral musicians. The strings are are reportedly very easy to bow, with a fast response, and have a "soft" feel both under the left hand and under the bow - making them an "easier" playing string. Yet they have a great range of dynamics and sound - you can really get them projecting loudly, without having the note distort out of tune.

And yes, they can be played pizz! For classical pizz, they have the appropriate and expected big, round tone. They are a darker sounding string, by design, so they don't have the brightness you might expect in "modern jazz," but they're not dead and thuddy, either.

The strings are scaled to fit 3/4 size bass with a playing length of 41 3/4 inches (1060mm). The medium tension strings are the best choice for a majority of players, but light and heavy sets are also available.
View All
Close
Warranty Information
I've experienced a problem with a string (or set of strings). What should I do?

We are sorry to hear of your experience. If you experience a problem with your strings (or string set), you may contact us (D'Addario) to see whether a manufacturing mishap is the cause. If you wish to return the string(s), visit http://www.daddario.com/ra. Please return the string or set in question in its original packaging (including corrosion intercept bag if possible). This will help us determine if a defect or other malfunction has occurred. Upon receipt and evaluation, if a manufacturing defect is revealed, we will quickly send you a replacement.

NOTE: Though it may not be the case in your situation, please keep in mind that premature string breakage is often caused by burrs or rough edges that develop at the nut or bridge/saddle. These rough edges are often difficult to see, but can be ruthless on strings. If your string continuously breaks at the nut or bridge, please check these points of contact for a nice, smooth surface. If burrs or rough edges are found, contact your local music shop or luthier to perform the necessary minor repair to resolve this common problem.
View All
Close
1 Review
I used these for about a year, mostly tuned down to orchestra tuning for the "extra light gauge" feel. But they are actually pretty nice solo strings in the solo tuning, with a bright sound and nice bow response. Works pretty nicely with a dark sounding bass. Even at solo pitch, they don't feel too stiff under the left hand. The nice thing is that you can get them with an extension-size string, if you want a low F# or an "extra light gauge" low C with your extension. I would get these again.
View All
Close