Deluxe Heavy Duty Folding Music Stand (10810)
SKU:

UPC:

MPN:

10810.000.55

FREE SHIPPING:

To Continental US (Lower 48)
Description

Okay Mark... Seriously? A $135 Music Stand?



Yeah, I know what you're thinking. That's a lot of cash to drop on a music stand. Couldn't I find a much cheaper stand?

Well, yes. Yes I could. But you can find cheaper, lighter-weight stands pretty much everywhere. Most any music store in any small town probably has them; I've even seen them at Target. So it seemed kind of pointless to offer those here.

But have you ever tried putting a "Real Book" on one of those stands? Or the pit orchestra score for an entire musical? Yeah, that's not going to work so well. At best, the stand sways and rocks uncomfortably with every page turn - and at worst, your score is on the floor.

This stand, while folding up to an extremely compact little bundle, and weighing under 6.5 lbs., is still crazy sturdy. It has a big (19.7" x 9.5") desk, with book-holding clips, and has three extending sections for extremely flexible height adjustments - from sitting to standing, you can put the stand where you want to, from about 28.5" to 59.75". And it has a super-sturdy tripod leg arrangement. This stand ain't gonna sway.

K&M is a well-known and respected musical stand manufacturer based in Germany; this unique stand offers compact design, high durability, and a low-profile black powdercoat finish.

So yes, this stand is not cheap. But for those players who make their living playing music, who need a stand that they can count on, this is an investment. It even has an integrated nameplate (see photo to right) so you can make sure that you don't lose track of it. And how many music stands have a 5-year warranty?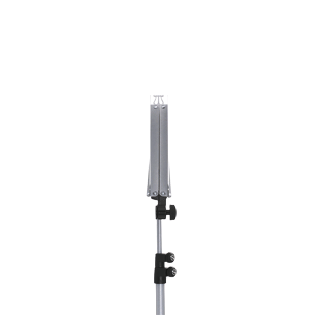 Height: Adjustable from about 28.5" to 59.75" (720-1,520 mm)
Legs: Extra-Strong U-profile steel legs with cross braces
Size when folded: 26.75" x 3.5" x 4.75" (680 x 90 x 120 mm)
Special feature: integrated nameplate
Weight: 6.4 lbs (2.5 kg)
MADE IN GERMANY
Sturdily designed, the 10810-KM is made of steel, black powder-coated. This three-piece folding music stand is equipped with beautifully designed, easy-to-use clamping elements. Its large music desk with integrated nameplate provides lots of space for personal sheet music.
View All
Close
Warranty Information
Our products have a 5 year warranty. In addition, we offer a replacement part service on all our catalogue products for 10 years.
Under the terms of these conditions, König & Meyer's warranty covers all defects which are verifiably material defects or manufacturing defects for the period of the warranty.
The guaranty does not cover the following:
Lights & bulbs
Products which have deteriorated through use or natural wear and tear.
Product defects which are the result of inappropriate use, aberrant environmental conditions, abnormal operating conditions, strain or inadequate maintenance or care.
Product defects which are caused by the use of accessories, components or replacement parts which are not original components.
Products which have been modified or altered.
Should you have a defective product that is covered under warranty, please email us ( info@connollymusic.com ) with the following information:
Model Number (please find on website if needed)
Date of Purchase
Specific Product Issue
Should the warranty be put into effect, warranty entitlement is neither extended nor restarted.
View All
Close