Gollihur Padded Upright Bass Gig Bag
SKU:

UPC:

MPN:

FREE SHIPPING:

To Continental US (Lower 48)

Exclusive Product:

ONLY at Gollihur Music
Description
This bag has been an hugely popular product since we introduced it over 15 years ago. It's a reasonably-priced, yet gig-worthy and road-tested bag. Its design reflects the sort of features people want - sturdy zippers, plenty of pockets, easy on/off, and protective padding that isn't bulky - and doesn't clutter it up or add cost with lots of stuff you don't need. It's roomy (check the photo above for internal dimensions of both the 3/4 and 1/2 size cases), it's well-padded, and it's a great price!
One of my most important criteria for a bass bag, aside from the obvious protection and price, is how easy it is to get on and off. I don't feel like having a wrestling match with a bag with one hand while trying to keep the bass steady with the other. These bags have zippers on both sides of the bag -- one that goes from the endpin to within a few inches of the top, and the other that just about opens to the widest point of the lower bout of the bass. As you see from the photos, this bag opens w-i-d-e, ready to swallow your bass without the aggravation other cases have caused me in the past. Bob's old Kay bass is inside the case(s) in at least one of the photos above - it fits Kay and Engelhardt basses like a glove!
See the image above for detailed measurements of both the 3/4 and 1/2 size cases.
Features:
High density, closed-cell foam padding that is nicely firm, not floppy, and is sealed within the fabric of the case; the two complementary foam layers consist of a "cushy" layer for soft, scratch-free protection against your instrument, and a "stiff" under-layer to provide real damage protection and rigidity. See the section below ("A Word About the Padding...") for more information.


FIVE double stitched handles for easy maneuvering, carrying and transporting - a heavily reinforced double suitcase style on the side for both vertical and horizontal carrying, plus an adjustable length lower bout handle so you can set it for your reach length*. Plus, this case adds a trio of what I like to call "wrangling" handles; one down near the endpin, a vertical grab type on the side and one up above the front pocket - these handles give you more handholds when you're trying to maneuver your bass into a small car or through a doorway. The latest version of the case adds a second suitcase-style handle on the other side.


Monster sized, self-healing zippers on both sides and all pockets. Smooth, luggage grade zippers provide long and trouble-free service. Main zipper is on your right side, when facing the bag. A second zipper on your left comes partway up the lower bout to allow easy on/off.


"No stress" zipper stops at the end pin avoids "zipper-strip" and ensures a long life. Plenty of room for your endpin to support the instrument in transit, and it is accessible if you use a bass wheel.


Large padded bridge protector with our well-known BASS oval logo embroidered onto it.


One bow pocket on the front. The bow pocket is 31 inches to accommodate longer bows. It does not "expand" and is not deep enough for most bow cases; it's designed only to hold a bow. We recommend putting a piece of stiff cardboard or plastic in the pocket to provide protection, if using with a wood bow.


Three zippered accessory compartments on the back, including a string package-sized at the pegbox, plus one pocket on the front in the traditional position, great for accessories like tuners, preamps, etc.


A pair of Metal D-rings (one on each side, near the upper bout) to help secure/carry the instrument. (See detail photos for closeups of the rings). Some owners have attached straps of their own (strap not included) to these anchor points for helping to support the bag when carrying it - but keep in mind that care should be exercised when supporting the bass on a strap. ALWAYS keep an arm wrapped around the bass in case your strap slips off your shoulder or a component fails. The strap points are NOT a substitute for a properly engineered backpack system (which this bag is not equipped with).


Smooth, padded lining with finished seams -- no rough edges to rub your bass the wrong way.


Durable Cordura style, heavy duty material outer shell, not that lightweight nylon fabric - and it's available in either black or in a very tasteful hunter green, adding a touch of class and individuality.


In spite of the many features, this bag weighs a mere 6.8 lbs!


Custom-embroidered "Bass" emblem - when the inevitable comedian sees you walking with the bass and asks, "is that a cello?" you can point to it and give them the appropriate look of disdain. Click on the image above for a close-up. You'll also receive a matching BASS Oval sticker with your order (with every order, actually)!

Will it fit your bass? Look at the image above, with the text "...detailed diagram of the 3/4 and 1/2 size case's measurements." and compare the numbers to your instrument. And we know that the 3/4 bag fits well on all the 3/4 sized, four-string Estle Louis basses we sell, as well as all 3/4 sized Kay and Engelhardt basses. It fits almost all of the most common "factory" basses, as well. The 1/2 size bag fits our Estle Louis 1/2 size basses, and should fit most common 1/2 size instruments.

Who's this bag made for?
This is the perfect bag for the "weekend warrior," bluegrass campground jammer, or folks who perform in community groups, local gigs, and so on. If you're a semi-pro dragging your bass through the city (and on the subway) a few times a week, we'd recommend a heavier-duty bag for that - the sort of abuse you'd encounter definitely calls for a more robust bag (and the subsequent weight and cost that comes with it.) But if you're taking your bass to the local coffeehouse or your church in the back of your SUV, this is the perfect bag - protective, but lightweight and cost-effective.

A few words about the padding used in this case: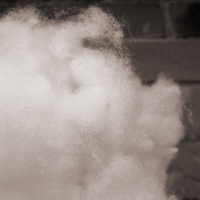 A lot of bags tout "thick padding" as a selling point in their bags. Many of those pillowy bags are very nice, and I'm sure that they do a perfectly good job protecting the bass. But I thought it might be helpful to point out that "thicker" padding isn't necessarily "better" padding.
Here's why: There are two primary types of "cushiony" foam: Open-Cell and Closed-Cell. A common example of closed-cell foam is a mousepad, or a neoprene wetsuit. Open cell foam, as is often used in a product like a flexible bag, is like the poly-fill you buy at the fabric store to fill pillows (like the photo at right).
Why does that matter? Are you sitting at a computer? Move your mouse out of the way, and rap your knuckles, hard, on your mousepad. Now, imagine doing that through a 2" pile of the stuffing pictured at the right. I don't know about you, but I know which one will protect my knuckles better!
And that same concept works with protecting your bass, like when you bump the doorway bringing the bass inside - the closed-cell foam rebounds rather than absorbs. It's also why your new flatscreen TV came boxed with protective bumpers of closed-cell foam, rather than stuffing pulled out of a pillow - the box would have to be a LOT bigger to have enough pillow-fill to provide the same protection.
So it provides the same, or better, protection -- with much less bulk. It doesn't shift around, which could leave some spots with less protection (like your pillow does when it needs to be fluffed!) And it has the added benefit of being lightweight, which is a very valuable thing to have in a bag.
And, of course, there is a thin layer of the softer stuff against the bass itself to provide a buffer to protect the finish from scratches and such.
TL;DR: Though you might be skeptical of the "thin-ness" of the padding in our case - it's actually to your benefit; you get all the protection with less bulk.
Is the bag "Waterproof?"
I get asked this pretty regularly. I can say this: the outer fabric of the bag is water "resistant" as provided, but that's not the whole story. I've heard of people treating the bag's fabric with Scotch-Guard® or similar. However, I'd never consider such a bag to be fully waterproof as there are zippers and other places where water can permeate. So I'd never advocate leaving it in the rain, or traveling with the bass in an open pickup bed during a storm. But it should protect the instrument when carrying it from your car to the venue/house when it's pouring out.
What side of the bag is the main zipper on?
A surprising number of players have asked me this; I suppose if you've had a bag for years, with the main zipper on a particular side, a new bag with it on the other side might throw you a bit. To be clear, the main zipper is on the "G" or "treble" side of the bass; so if the bass is facing you, the zipper is on the right side. If this is the opposite of what your old bag was like, don't panic - all you have to do is pirouette (spin) your bass a half-turn and put the bag on the same way you always did. Easy-peasy! Also of note - some earlier versions of our bag, which were made for us by a different manufacturer, actually did have the main zipper on the other side.

* Important Note about the design of certain handles on this bag:
This bag has been designed and refined over 15 years, and for most customers provides confident, long-lasting protection. However, it is made mostly of fabric and thread (like other gig bags) and some thoughtful "care and feeding" - and appropriate use - will substantially increase the product's lifespan (and your satisfaction).
We will send you a printed or PDF copy of our specific instructions to ensure you understand all that you need to know about our bag, and you can click the tab just above for "Product Manual" to view it now, in PDF format (and print it out, if you wish). Specifically, check out the information about the use of particular handles on the bag - as mentioned in the paragraph above, some are meant for carrying, others are meant for "wrangling" - and using certain handles counter to their design can result in damage to the bag. So please check it out! We WANT you to be happy. :)
Product Manual
Need to figure out some of the more in-depth features of this product? Here's a copy of the manual, in PDF format, here.
View All
Close
23 Reviews
Great Bag - Holding up Wonderfully

I've used the bag for over two years. Typically use one to four times a week. The bag is still in great shape and I love all the pockets and handles. Highly recommended.

I received this gig bag 4 days after ordering and it is well beyond what I had expected. My old Kay fits perfectly and the padding is enough for regular handling and moving of the bass. Plenty of pockets and handles for every angle of carrying or loading into a vehicle. I personally cannot understand the negative comments. Additionally, when a person calls the company and is able to speak with the knowledgeable owner, who explains every concern and answers every question, that personal connection to its customers is very valuable in its self. Thank you Gollihur music for advising this old bass playing hick on my questions and concerns...

Love this bag, great materials and padding, handles in the right places, heavy duty zippers. Highly recommended. Left hand zipper side is no big deal, was able to get used to it without issue.

Fantastic gig bag. Very well made. I wish the zipper was on the other side though for right handed players. More natural. I'm used to it now. 5 stars!!

I bought this bas about 12 years ago. Got a lot of miles on it, but still as good as new. I have a unique plastic tube for my bow that just fits in the bow pocket. I strap on the bass buggy & am ready to hit the road. Did have to replace the zipper pulls with better ones.
View All
Close