DB-1 Wood-Encased Upright Bass Pickup for Bridge Wing
SKU:

UPC:

MPN:

FREE SHIPPING:

To all 50 US States
Description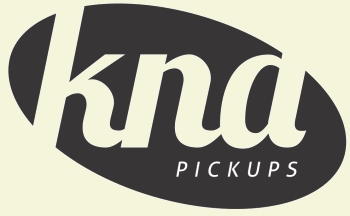 Like many other upright bass pickups, the DB-1 is a compact unit designed to be wedged into the wing in the side of your bridge. Most of those pickups require that you custom-fit the pickup into the slot, using sanding/filing to open up that slot for optimal fitment. There's nothing inherently wrong with that approach; there's no effect on the bass tone or volume, etc. There are also pickups that are made of a material that allows you to instead shape the pickup to fit, which is also a good alternative.

But if you're really concerned about making destructive changes of any kind, this new (May 2016) pickup option from KNA is going to make you smile.

The vibration-sensing transducer is encased in a tonewood housing that is very thin (.085 in thick) -- and the pickup includes several tonewood shims which you can use to provide just the right level of pressure on the element. This flexible mounting option allows you to experiment with various levels of pressure and placement - non-destructively - as well as switch the pickup between several basses as often as you wish.

Now, granted - bridges are not uniform, and some may require slight alterations to accommodate any pickup properly. Flat, even contact is key to get the best sound, and if your bridge wing is particularly "curvy" you may still wish to provide a flatter surface. I use a file or piece of sandpaper wrapped around a slim slice of wood to fit pickups to the wing. But on most bridges, this very well may not be necessary.


The DB-1 is crafted in the European Union by KNA, and the pickup was created with the help of my own input and insight; I tested several prototypes for them and made lots of suggestions while it was being developed. You'll find that it even includes a jack mount arrangement almost identical to the way we mount the jacks for Ehrlund and David Gage pickups we sell.



The manufacturer suggests mounting in the "G" string side of the bridge, but I certainly encourage you to try in both sides to see what you prefer; every bass is different! This pickup is often compared to the Revolution Solo (RS1 and RS2) as well as Underwood. KNA is aka Kremona, who made our Bulgarian carved bass.
7-Day Trial Period
Your purchase of this item is covered by the exclusive Gollihur Music 7-day Trial Period, under the following terms:
You may contact us to return this item, for any reason (or no reason), within the first seven days of ownership. The timer starts on the day that you receive the item, not the order date.
Returns are subject to deductions as follows:
Any shipping costs you paid are not refunded, and if the item shipped free, the costs we incurred to ship the item to you will be deducted from your refund or credit.
All shipping costs you incur to return the item are your responsibility.
A small fee is deducted from your refund to cover credit card/PayPal fees which are not refunded to us even if we refund your charge. Note that if you choose to accept a store credit instead of a refund, this deduction does not apply.
Items must be returned in 100% "as new" condition, with all original packaging, shipping materials, and accessories/manuals/bonus items. Deductions are assessed for missing or damaged items.
IMPORTANT: You must contact us for authorization BEFORE shipping the item back.
View All
Close
19 Reviews
After reading all of the positive comments here, I decided to order this pickup from Mark. It arrived quickly and using Mark's supplied instructions, I was able to install it in five minutes. This is my first upright bass pickup so I can't compare it to other products. My bass is a second-hand Czech-made plywood student bass and it sounds great directly through my Traynor SB106 amp with all the controls set flat. I'll experiment with the EQ, but right off the bat I'm very happy with this purchase!

KNA Bridgewing Pickup DB 1

Bought 2 of these to put on my Yamaha Electric Upright Basses, That both had a very Mid Heavy tone from the Internal Pickups. I also put Krivo Magnetic Pickups from Gollihur on these basses. Using blending preamps purchased here as well, the LR bags belt dual preamp. Finally I've got the tone I was looking for. These Bridge wing pickups give me the thump and Attack. The magnetic gives me the Deep giant P Bass sound. Blend the 2 and get the EQ curve correct and you got it. I shop here for all my Upright Bass needs.

So, I purchased this because I needed a pickup that can handle higher-volume playing with a blues/rockabilly band and an acoustic duo with some bowing. My previous pickup was a Gage Realist, which is terrific for jazz and more nuanced playing, but lately I find myself doing fewer jazz gigs, so I thought it was time for a change. This pickup is not necessarily "the sound of your bass, but louder," but it certainly has a great presence for rock, blues & rockabilly. The bowing tone is pleasantly detailed: not too squeaky, nice foundation, not as detailed as the Gage, but warm. For reference, I'm using an acoustic image Clarus SL-2, an Orange Terror and a Markbass CMD 121p. No preamp necessary for this pickup. I may buy another before folks realize how good these things are and the price goes up.

I recently bought a DB-1 Wood encased bridge wing pickup. I love it. I feel like I have finally achieved the dream, it sounds like my bass but louder. I'm using: DB-1 Wood encased bridge wing pickup Acoustic Image Combo Amplifier (with downward pointing 10" horn) SWR Combo Amplifier 1860's Czech Flat Back Bass, Corelli Forte Strings (Sounds amazing) 2015 E. Wilfer Round Back Bass Bel Canto Strings, (Also amazing) Hybrid Round Back Bass with Evah Gold Gut Strings (Stunning.) For 20 years I played on an U******** wing slot pickup with my antique Czech bass and a number other basses. I preferred the U******** to other options, but I wouldn't say that I ever loved how it sounded. An acoustic image took it a long way to sounding like my bass with no amplification, but it never really got there. I experimented with The Realist and Fishman pickups, but I always felt that the Realist didn't have enough pitch definition or finger sound, while the Fishman had way too much. Underwood was as close to balance between the two as I could get, but my string choices never seemed to matter. I tried Spirocore Weich and Solo Gauges, Bel Cantos, Evah Pirazzi Weich and Medium Gauge, and Corelli Regular and Forte. Whatever string I used with an Underwood or Fishman felt different, but it never sounded different. The DB-1 has changed how I feel about playing with an amp! I can hear different tonal qualities with each of my basses and their different setups. The overall effect of the pickup is a full sound with a little bit of punch to it, but not as 'tinny' as a Fishman and not as undefined boomy as the Realist. It improves on everything I liked about the Underwood. I can hear a bit of finger noise, but not to a distracting level, there is plenty of low end presence without an overwhelming 'boom,' and the pitch is clear without being too bright. The DB-1 comes with several tone wood discs that are used to sandwich the wood encased pickup into the wing slot. The input jack comes with a simple to install screw collar that fits into a hole on the tailpiece. It takes me about 2 minutes to install or to move from one bass to another. I've found that each bass/string combo has slightly different preferences for where and how to install the pickup. My 1865 bass and my hybrid bass like the pickup on the G string side with lighter weight discs and my 2015 Wilfer bass likes it on the E string side with 1 heavier disc. At a guess I think this reflects the nature of the strings and instruments - the Wilfer has a bright and direct sound with really low action, so it wants a bit more low end, while the Czech bass is always 'juicy' on the E and A strings, and it wants a little punch to the high end. The hybrid has natural gut on the D and G, so I like to place the pickup on the G string side to emphasize that sound. More than anything else, each bass and string combo sounds different with the pickup, and I find that they each reflect the natural acoustic sound of that bass/string setup. I've been really into my gut strings with this pickup - I can't tell you how stunning it sounds. I've played a couple of jams and combo gigs where it has really sounded great, and I'm looking forward to a big band gig first chance I get. I've also been pleasantly surprised by how well the basses sound arco - there is always a bit of 'woof' to an amplified arco sound, but this is less overwhelming than with any of my previous pickup choices. I played a couple movements from a Bach cello suite through the amp, and it generally sounds really good. My 1865 bass is a little too much for the combo, but the gut strings actually sound fantastic with a bow and the amp- you can hear the grit of gut without becoming harsh. The DB-1 sounds better, for less money, than any other pickup I have used in my career.

A friend asked me to install a KNA DB-1 on his Shen bass whose twelve year-old piezo pickup was starting to falter. I flattened the G-string side wing slot with sandpaper wrapped around a ruler to give the DB-1 the best contact. That took about two minutes. The DB-1 slipped into the wing slot with two shims in another minute. The jack mounted in the tailpiece in about another two minutes. Five minutes later, we plugged the DB-1 and the K&K into the two channels of his Euphonic Audio Micro to compare tones. No contest! The KNA DB-1 sounded full and round, especially on arco in thumb position. The old pickup, by comparison, sounded "thin" and "reedy". This is the pickup I will be recommending. Ease of installation, great tone, and low price, what's not to love?
View All
Close