Supernil SLAPS Super-Light Upright Bass Strings (Bumped Set)
SKU:

UPC:

FREE SHIPPING:

To all 50 US States

Exclusive Item:

ONLY at Gollihur Music
Frequently bought together:
Description
Hard-playing slappers often prefer a string with plenty of bounce, but not a lot of tension. No one likes spending a 4-hour set whacking their hands against high-tension, inflexible strings. Common options for low-tension strings include various sets that are purpose-made for slapping, as well as literal weedwacker line in various gauges that has been cut to length to serve as strings (!)

Supernils are already being used by some players for this purpose - they're among the less expensive options, and have a notoriously fat, booming tone that can work in the context of rockabilly and psychobilly. (They're also popular with bluegrass players.)


With this set, which we're specially sourcing direct from LaBella, we've made them even more palatable to the slapper. By "bumping" the set, we're creating an ultra-low tension set - and by supplying the special order nylon low string, we're providing a set that is fully nylon from top to bottom (the regular Supernils have Silver-Plated Copper Windings on the A and E string).

The high (G) string is a solid nylon, while the other three strings have the characteristic "roundwound" sort of finish that the Supernils are known for. Their pitches can be - ahem - less than definite, but this can be an asset in high-energy slapstyle playing where the pitch can be almost secondary to the percussive element! And of course, they have an attractively low price.

Sourced and provided exclusively by Gollihur Music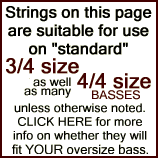 LaBella does not list gauges on their packages, but I have taken the time to gauge all the strings using a digital caliper and present the following unofficial measurements of these Supernils for your reference:
G=.072 (Solid Nylon)
D=.090 (Nylon Monofilament Wound on Nylon Multi-Filament Core)
A=.117 (Nylon Monofilament Wound on Nylon Multi-Filament Core)
E=.133 (Nylon Monofilament Wound on Nylon Multi-Filament Core)
"The More You Know..."
These strings are VERY light tension. You will likely find that they are too light for standard pizz play, particularly on the "E" string. I'd recommend these strings primarily to aggressively-slapping psychobilly players, for many of whom the note doesn't matter nearly as much as the percussive elements do.
View All
Close