String Sets for the Eminence Electric Upright Bass
SKU:

UPC:

MPN:

FREE SHIPPING:

To all 50 US States
Description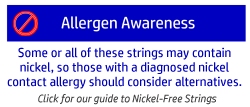 The Eminence electric upright bass is a longtime favorite of ours, and of our customers. It is capable of handling a large number of strings designed for 3/4 size upright basses, but if you were happy with the sound and feel provided by the stock strings, here are the sets that come as "OEM" strings on the bass as provided by the manufacturer.
The strings are the Helicore Hybrid set - but the G string has been substituted with a Helicore Orchestra G string. Presumably, this is done to provide a better balance of tone and volume, considering the tonal quirks that may occur with the smaller body of the Eminence. All we know is that it works well!
For five-string basses, the Low B is added to complete the set. For high-C tuning, though, there is no Helicore high C string - for that, the best match (and the string recommended by the luthier who developed the Eminence) is the Pirastro Jazzer high C string. So that's what we've included with that set.
Just need single strings? Click the link(s) below to purchase single strings from their "original" sets:
Helicore Hybrid (for B, E, A, D strings)
Helicore Orchestral (for G string)
Pirastro Jazzer (for high C string)

More about the Helicore Hybrid Set: The Helicore Hybrid are a purposeful compromise between the extremes of their Orchestral and Pizzicato strings. While the orchestra strings are designed primarily for Arco (bowing) and the Pizzicato strings are primarily for those playing pizz (plucking), the Hybrids are made for those who happen to do a little of each! They have slightly more growl and sustain, and are not quite as bowable as the Orchestra set -- but still are quite a nice choice if you bow sometimes, but want a bit more grit and sustain than the Orchestral strings provide when playing pizz.

Bottom line: They make for a very good "all around" crossover sort of string for those who play in a variety of styles.




Tension figures:
| | |
| --- | --- |
| String | ¾ med |
| G | 62.0 |
| D | 64.5 |
| A | 67.0 |
| E | 68.0 |
| Ext E/C | 68.0 |
| Low B | 69.6 |

View All
Close
Warranty Information
I've experienced a problem with a string (or set of strings). What should I do?

We are sorry to hear of your experience. If you experience a problem with your strings (or string set), you may contact us (D'Addario) to see whether a manufacturing mishap is the cause. If you wish to return the string(s), visit http://www.daddario.com/ra. Please return the string or set in question in its original packaging (including corrosion intercept bag if possible). This will help us determine if a defect or other malfunction has occurred. Upon receipt and evaluation, if a manufacturing defect is revealed, we will quickly send you a replacement.

NOTE: Though it may not be the case in your situation, please keep in mind that premature string breakage is often caused by burrs or rough edges that develop at the nut or bridge/saddle. These rough edges are often difficult to see, but can be ruthless on strings. If your string continuously breaks at the nut or bridge, please check these points of contact for a nice, smooth surface. If burrs or rough edges are found, contact your local music shop or luthier to perform the necessary minor repair to resolve this common problem.
View All
Close