Eminence Electric Upright Bass
SKU:

UPC:

MPN:

FREE SHIPPING:

To Continental US (Lower 48)

FREE GIFT(S) with purchase:

Add to cart to reveal!
Description
I first fell in love with the Eminence electric upright bass (EUB) at the January 1999 NAMM show. After I started to play it, I didn't want to stop. As a bassist who started on double bass, I still gravitate to an instrument that feels familiar to my hands and ears, and the Eminence bass really fit the bill. And it is a gorgeous instrument with an obvious vibe that connects it to its larger brethren.


What's the difference between it and others?? First, you can see that this is an actual acoustic instrument, complete with sound post and bass bar, just like a full size bass. This is not an instrument that needs to be plugged in for practice.

I bought an Eminence RN4 model for my own gigging pleasure, I don't just sell these, I gig mine. Please let me know if you have any specific questions about them, I can answer your inquiries from experience; that's my personal Eminence bass in the photos.

The Eminence bass is available in two forms, the standard fixed-neck instrument, and the one with a removable neck that allows you to transport the bass in a shorter container. Here are some details that apply to both:Fully acoustic body delivers real acoustic sound.
Small body size allows the Eminence bass to fit into any conventional car, and the removable neck model can really make it into tight quarters.
Standard-size D neck and scale length for familiar feel and playing ease.
Fully adjustable bridge height allows personalized action adjustments.
Removable Waist Extension simulates typical double bass contact.
Special design padded gig bag included with purchase; both basses come with a full size heavily padded bag with the usual pockets and handles. The removable neck model also includes a neck bag, so when you take it apart there are two bags that will cushion it within whatever hard case or other transport item you use.


Specifications:


Neck:Rock Maple
Fingerboard:Ebony
Vibrating String Length:41-1/4 inches
Top:Arched, Laminated Spruce
Back:Arched, Laminated Curly Maple
Air Chamber Depth:3 inches
Body Size:10½ x 31½ inches
Bass bar:Solid Spruce
Sound post:Solid Spruce
Bridge:Maple, Fully Adjustable
Strings:D'Addario Helicore Hybrid Strings
Pickup:Realist, specifically modified for this instrument
Tailplate:Solid Brass
Endpin:Fully Adjustable with Steady-foot™ Anti-rotational Endpin Foot (see photo below)
Total Length:63 inches
Weight:Fixed Neck - 13 lbs., Removable Neck - 14 lbs.
Warranty:Two-year limited warranty
LEFT HANDED-Only Removable neck 4 string basses available

I've had some inquiries about neck sizes, and offer the following approximate measurements I've taken of the four and five string basses:
| | | |
| --- | --- | --- |
| Measurement Point: | 4 string | 5 string |
| Neck/string spread width fingerboard below nut measurement | 1 5/8 inches | 1 13/16 inches |
| fingerboard width at the end | 3 3/8 inches | 3 3/4 inches |
| string spread at bridge measured beneath string curve, G to bottom string | 3 3/16 inches | 3 1/2 inches |

The Eminence RN Portable Upright Bass with its detachable neck may fit in some airplane overheads or in baggage check without incurring oversize charges. The bass with flight case (too large for overheads IMHO) weighs only 37 pounds! The steel dovetail neck joint is guaranteed forever. Because the strings attach at the tailplate, it takes only 10 minutes to set up and 5 minutes to break down.


Padded soft case, waist extension, Realist pickup, Steady-foot™ Anti-rotational Endpin Foot included


Options include:
Inlaid Side Position Markers
Flight Case (for removable neck model)
Stand (also available for purchase separately)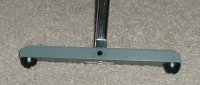 The special endpin foot lets the bass comfortably move with you
from side to side, but keeps the bass stable.

The Eminence Bass Stand is available separately for current Eminence owners. It is identical to the standard Hamilton Bass Stand, but it has a special receiver at the base designed to accept the unique T-shaped Eminence endpin. The stand is shown in the photos above. The Ingles Stand will also handle the Eminence EUB, but the custom Eminence stand is far more compact, though not as secure.

I have gotten the question, "do you need to use a preamp with the Eminence?" I usually gig my Acoustic Image Contra with my Eminence RN4. However, I will use a preamp and possibly another amp with it under different circumstances. If volumes are relatively low I go direct to the Contra, as the controls are easily reachable at my feet and the input impedance of the Contra is an appropriate match. If I expect to have a bit more competition, which means I need to move my amp away from the bass, I'll use a K&K Pure Preamp clipped to the stand or my belt. That gives me a convenient volume control, as well as tone controls, so I can make adjustments without dragging the bass to the amp. The little K&K seems to add focus and clarity even when the tone controls are flat. If things are more competitive I may use a Fishman ProEQ Platinum Bass DI as it offers more feedback control tools and tighter EQ, possibly with my Euphonic Audio rig if volumes require.
View All
Close
7 Reviews
Mark, I got an Eminence bass from you couple weeks ago. I had my first chance using it at a jam last night....spectacular !!.... My other bass is a full size, but this Eminence just kicked butt...for the first time in a jam I could actually hear what I was playing all the time against an octave mandolin and two flatpicked guitars. No more mumbling, just nice crisp bass notes. ...sweet!

Mark, I just returned from playing on a cruise to Europe... (using) the Eminence... I wrote you before I left with concerns because I sit when I play and "embrace" my bass. I LOVED the Eminence... By the second day I was comfortable playing and after a week got my body position comfortable. That's when I fell in love with it! Played it through a Gallen Krueger head and Hartke speaker. It was better without the body extension and better when I stood to play which I haven't done in probably 40 years. I could use vibrato and really make the bass sing. Your encouragement before I left was a lift and playing it for 3 weeks made me a true believer. And it wasn't difficult to transition back to my old bass as I feared it might be because the Eminence is so easy to play.

Best bass I've ever played

Hi Bob This is simply a message to say how much I enjoy playing my Eminence bass. I put it through a Headway preamp and a Genz Benz shuttle 3 combo and it sounds wonderful. The comments on the the sound from other bass players have been SO complimentary. That's all. Just the best bass I have ever played. Thanks again...

The Eminence came just before Christmas -- I surprised my 15-year-old son with it as a Christmas present (after we had him do a treasure hunt to find it -- as it was his only real present, we had to draw out the action!) Then I held my breath, as I had no idea if it would sound good, or even feel good to play. When we took it out and put it together, it was so beautiful that we treated it with the utmost care and respect. But all of our concerns vanished when he started to play. We didn't have an amp, as we were on vacation (I had it shipped to our vacation spot), but it sounded just like his real acoustic upright! What a success -- THANK YOU!! Also, it was sort of a present for mom and dad too, as now when we drive our son to his gigs where he's allowed to use it, we will be relieved of all the "bass schlepping" hassles we've had to endure (can't put him in a carpool, have to take the station wagon, can't take other kids, etc..). Also, it's so elegant and handy that I've noticed he prefers to play it over his upright these days, and there doesn't seem to be any "transition" issues between the two instruments due to the Eminence's genuinely replicated playing feel. So all in all, a great success!!!

Perfect for practice unplugged

Folks at Gollihur- I've had my five string eminence for a few weeks now, and am very happy with it. It is perfect for practice unplugged (the cats are not into it), and the Realist pickup is better than I could have imagined. Sounds great with the acoustic/electric band I am in. Thanks again for a great bass.
View All
Close